German court keeps Auschwitz SS guard Oskar Gröning in jail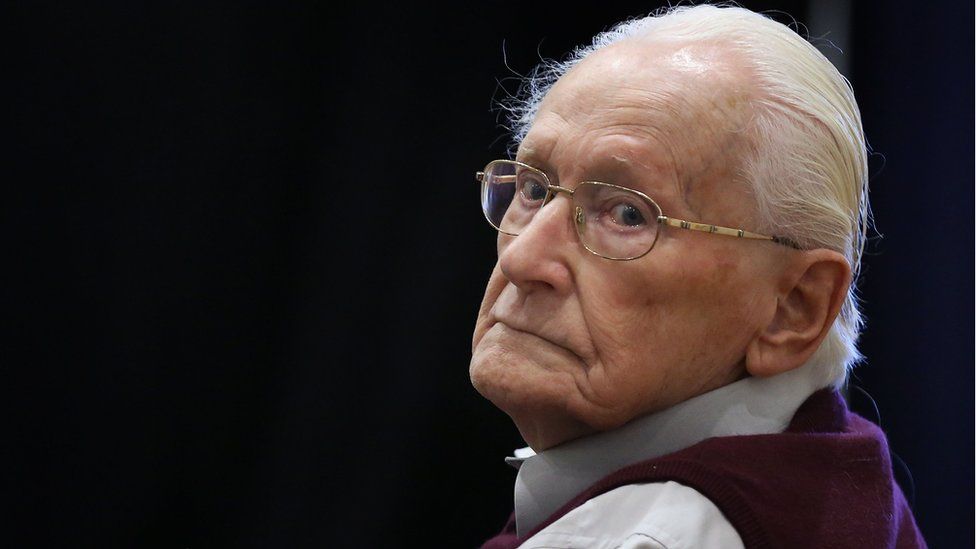 A former SS guard at Auschwitz death camp, Oskar Gröning, must serve his four-year prison sentence, Germany's top court has ruled.
Constitutional Court judges rejected his lawyer's plea that Gröning, 96, was too old and frail to remain in jail.
The so-called Book-keeper of Auschwitz was sentenced in 2015 as an accessory to the murder of 300,000 Jews.
He had collected money stolen from victims of the Nazis, but had not been charged for any specific murder.
His lawyer Hans Holtermann submitted the appeal in mid-December, after his plea for release had been rejected by lower courts in Lüneburg and Celle.
The conviction of Gröning was a landmark in post-war German justice. Previously many cases against former SS guards were dropped if there was no evidence that they were directly linked to specific murders.
During World War Two, the Auschwitz-Birkenau camp complex was a Nazi killing centre, where about 1.1 million people died, most of them Jews. It was liberated by Soviet forces in 1945.
Born in 1921 in Lower Saxony, Germany
Joined the Hitler Youth and then the Waffen SS
Worked at Auschwitz from 1942, counting money confiscated from prisoners
Expressed regret and spoke openly of Auschwitz experiences, saying he wanted to counter Holocaust deniers