Elderly Irishman and carer 'marrying to avoid inheritance tax'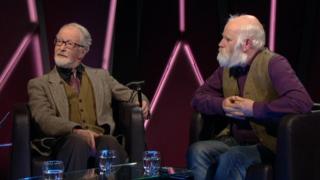 Two Irishmen have declared their intention to get married in spite of the fact that neither of them is gay.
Elderly Dubliner Matt and his neighbour and carer Michael O'Sullivan have planned a pre-Christmas wedding.
Having been close friends for 29 years, theirs is a marriage of convenience but one with love at its heart.
With Matt in his twilight years, he wants Michael to have his house after his death and they plan to marry so he can avoid a tax on the inheritance.
The pair told Irish national broadcaster RTÉ that they intend to tie the knot in County Tipperary on 22 December, as long as the weather is good.
If not, they will wait until the new year to make the near-two-hour trip to Cashel for their nuptials.
'I love Matt'
Matt, 85, told the Liveline radio programme that Michael is "my best friend" and he deserves the house in Stoneybatter in Dublin because he is "prepared to look after me in my old age".
"He's been part of my life and when I die whatever I have in my home - no problems - he can have it," he added.
Michael, who has two daughters and a son from two previous relationships with women, said: "I love Matt... but not in a sexual way.
"He's one of the nicest people that anyone will ever meet in your life."
But he explained that unless they were married he would face a capital acquisitions tax bill of 33% of the value of the property after he inherits it, and that would be "a burden round my neck".
People in the Republic of Ireland who are married are exempt from the tax on items of inheritance from their partner.
'Free to date'
Same-sex marriage was legalised in Ireland in November 2015, six months after the country voted overwhelmingly for it in a referendum.
In doing so, Ireland became the first country in the world to legalise same-sex civil marriage by way of a popular vote.
Matt said that Michael would be free to date women after they exchange vows.
Michael said that his family have known his future husband for a long time and they do not have concerns about the arrangement.
Asked if he would tell any new romantic interest about his marriage to another man, he said: "Probably so, of course I have to tell her!"