Switzerland's Gotthard road tunnel closed by deadly crash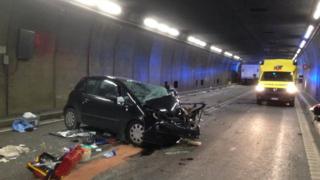 One of Europe's main transport routes, the Gotthard road tunnel in Switzerland, was shut for several hours after a deadly crash.
Police said two people were killed and four injured in the head-on crash between a car and a lorry on Wednesday morning local time.
The tunnel, which runs under the Alps, reopened at 1430 GMT, police said.
Investigators said it appeared that the driver of the German-registered car had crossed the central line.
The 10 mile (17km) tunnel, which opened in 1980, is a main north-to-south route for Europe and is used by more than a million freight lorries a year.
In 2001, 11 people were killed when two lorries collided head-on in the tunnel, triggering a huge fire. The tunnel reopened with stricter safety measures in place.
Last year, the Gotthard rail tunnel was opened to try to relieve some of the traffic using other routes.