Russia Olympics ban: Kremlin 'will not bar athletes' from Games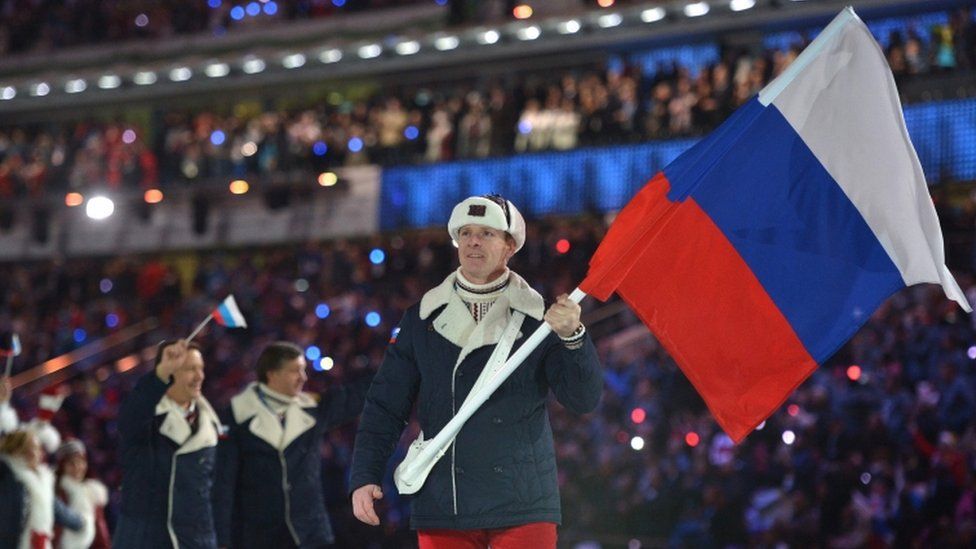 Russia will not prevent any of its athletes from competing independently in the Winter Olympics in February, President Vladimir Putin says.
The International Olympic Committee has excluded Russia from the Games in South Korea after two investigations outlined a state-sponsored doping programme.
But athletes who can prove they are clean and have not previously been sanctioned will be allowed to compete.
Mr Putin rejected the claims and said the ban was "politically motivated".
There will be no Russian flags, anthems or uniforms during the Games in Pyeongchang. Russian athletes competing will carry a neutral flag and the name "Olympic Athlete from Russia", the IOC says.
Russian state TV channels have said the allegations are an anti-Russia witch hunt and have pushed the #NoRussiaNoGames hashtag.
But in his first comments after the IOC decision, Mr Putin said: "We will not be announcing any kind of blockade. We will not prevent our Olympic athletes from taking part if anyone wants to take part in a personal capacity."
He later added: "This all looks like an absolutely staged and politically motivated decision."
Earlier, Kremlin spokesman Dmitry Peskov said the situation was "serious" and required "deep analysis" but he called for Russians to avoid an "emotional" response.
Mr Peskov said it would be wrong to jump to conclusions until Russia's athletes had met and the IOC had been contacted.
He added that it would not be a priority to hold Russian officials responsible.
A member of the Russian parliament, Valery Rashkin, has filed a lawsuit against former Sports Minister Vitaly Mutko over the row. Mr Mutko has been accused of presiding over a systematic cover-up of doping in Russian sport.
By Dan Roan, BBC sports editor
President Putin's decision will come as a major relief to the IOC, avoiding the first major boycott of a Games since 1984. But some critics will suspect that this is evidence of a behind-doors deal struck with the Russians.
Although the country has suffered a humiliating ban, their competitors will be called "Olympic Athletes from Russia" as opposed to "Neutral Athletes", ensuring the country does at least have a presence in Pyeongchang
The national flag could even be flown at the closing ceremony. Furthermore, IOC President Thomas Bach has suggested that after the Winter Olympics a line will be drawn under the crisis, allowing Russia to move on.
These concessions may have been crucial in Mr Putin's decision, and are sure to lead to suspicions that the IOC was too lenient given the scale of cheating.
The IOC announcement on Tuesday followed a second investigation - the Schmid report - which found evidence of "the systemic manipulation of the anti-doping rules and system", despite repeated Russian denials.
The IOC said the ban "should draw a line under this damaging episode".