Irish deputy PM no confidence motion could force election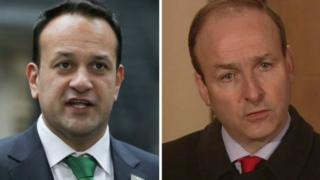 The Republic of Ireland could face a general election after the country's second largest party tabled a motion of no confidence in the deputy prime minister.
The Fianna Fáil motion against Frances Fitzgerald comes over her handling of a police whistleblower controversy.
Her party, Fine Gael, passed a motion to support her at an emergency party meeting on Thursday night.
Fianna Fáil front bench members lodged the motion for debate next Tuesday.
Fine Gael lead the minority government with the support of Fianna Fáil.
Fianna Fáil, the main opposition party, agreed to back a Fine Gael minority government after the 2016 general election did not return a majority government.
Under the terms of the confidence and supply arrangement, Fianna Fáil agreed not to vote against the minority government in confidence motions and to support it for three budgets, two of which are now past.
Now, the government looks likely to collapse, forcing a snap election next month, unless Ms Fitzgerald resigns before the no confidence motion is debated.
Sinn Féin, the country's third largest party, had tabled their own no confidence motion on Thursday.
It is due to be debated and voted on next week.
Ms Fitzgerald has been under pressure over her handling of an ongoing controversy around a Garda (police) whistleblower when she was Irish justice minister.
---
Analysis: Shane Harrison, BBC News NI Dublin correspondent
What we are witnessing is a game of call my bluff, involving three political parties.
The decision by Sinn Féin to put down a motion of no confidence in Frances Fitzgerald was aimed at calling Fianna Fáil's bluff.
That's because Fianna Fáil has an agreement with the minority-led Fine Gael government whereby they were prepared to support them in a confidence-and-supply arrangement.
But Fianna Fáil called Sinn Féin's bluff by deciding to put down their motion of no confidence which will take precedence over the Sinn Féin one - at a time when Sinn Féin is undergoing generational change.
Fine Gael is now calling Fianna Fáil's bluff by saying they are prepared to go to the country over this issue.
Once TDs go back into their constituencies they will face questions from the public: How can you bring down a government over a missing or forgotten email by Frances Fitzgerald during key Brexit talks, when many thousands of people are homeless and there are huge hospital waiting lists?
Fine Gael normally prides itself on putting the country before the party.
I wouldn't be surprised if, in the coming days, Frances Fitzgerald fell on her sword.
---
Ms Fitzgerald has faced questions in the Dáil (Irish parliament) about what she knew about what lawyers were going to put to a whistleblower at a commission of enquiry.
In particular, she has been questioned over her account of an email she received about the legal strategy of the former Garda commissioner in the case of Sgt Maurice McCabe.
Ms Fitzgerald has recently admitted that she was made aware a year earlier than she had previously stated, that lawyers for the Garda were going to attempt to discredit Sgt McCabe.
The email was initially sent to Ms Fitzgerald in May 2015, but she told the Dáil earlier this week that she could not remember reading it.
Speaking to Irish national broadcaster RTÉ, Fianna Fáil justice spokesperson Jim O'Callaghan said that Ms Fitzgerald "should go".
He said that party leader Micheál Martin had expressed this view to Taoiseach (prime minister) Leo Varadkar.
Irish foreign minister Simon Coveney told RTÉ that the government would continue to support Ms Fitzgerald and that calls for her resignation were "built on sand".