Giant swastika unearthed under Germany sports field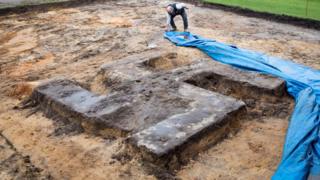 A large concrete swastika has been unearthed during excavations for new changing rooms in a sports club in the German city of Hamburg.
The swastika, measuring four by four metres (13ft by 13ft), was buried 40cm underground in the Billstedt district.
The city's officials ordered the structure to be removed immediately but it was too heavy to be lifted by an excavator.
It will now be destroyed into smaller pieces by jackhammer.
Members of the Billstedt-Horn sports club said the structure was the foundation for a large Nazi-era monument that once stood at the site and was demolished decades ago.