Brexit talks: Parallel universes of UK and EU negotiators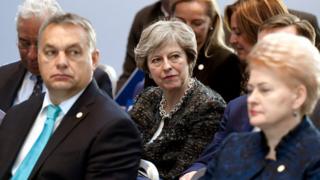 Following the different reactions, interpretations and declared intentions of both the EU and the UK over the last months, I've become ever more convinced the two sides are wearing fantastically different opera glasses as this Brexit drama unfolds around them.
How else do you explain the wildly divergent expectations of Theresa May's bilateral meetings with EU leaders on the margins of talks in Sweden on Friday, or the (for the EU) eyebrow-raising assertions made by UK Brexit secretary David Davis during a speech in Berlin on Thursday?
First to Theresa May, who firmly believes she's on a charm offensive ahead of the EU leaders' December summit. Her goal: to schmooze her European counterparts into agreeing that the never-specifically-defined-by-the-EU goal of "sufficient progress" on Brexit divorce issues has now been attained, so that negotiations should imminently widen to include the UK-favoured topics of trade and transitions deals.
This is not the view of Mr and Mrs European leader. They see these bilateral meetings as a way to impress - again - on the British prime minister that "sufficient progress" on the key issues of Ireland and, most of all, the Brexit bill is still a small universe away.
The Irish prime minister says he remains an optimist but, let's be honest, he was being polite.
Behind the scenes, Ireland is frustrated beyond belief with the British government. It is particularly worried about the future of the 1998 Good Friday Agreement, which put an end to the Northern Ireland conflict, if a solution to avoid reintroducing a hard border between Northern Ireland and the Republic of Ireland remains elusive in the long term.
Donald Tusk, the president of the European Council, who represents all EU leaders in Brussels, let his message be known even before his meeting with Mrs May: "There's more work to be done and time is short," he said.
Note that he didn't say time had run out to make the December summit deadline, but the UK government knows only the magic words "yes, we'll pay" will open the EU door to those widened negotiations.
Annoyed as it may make Ireland, the European Commission believes, as the UK does, that a solution to the border problem is more likely to be found in stage two of Brexit negotiations when future EU/UK relations including customs are discussed.
This means money remains the main sticking point. The third key divorce issue, citizens' rights, is not entirely sorted but good progress has been made.
On money, Brussels sees it as a long-awaited step forward that the British government is now planning to haggle down the final figure the EU insists the UK must pay to honour past financial commitments.
"We're used to smoke-filled rooms and horse-trading," one EU contact told me, "But that hasn't been possible on [the Brexit issue of] money until now because the UK refused to discuss the individual sums involved."
So perhaps then we're inching towards the next act in the Brexit drama.
Maybe it's still possible that a heady mixture of British charm and cash will galvanise EU hearts to opening talks of an EU/UK future as of mid-December. But my rather gloomy bet is that'll throw the differences between the two sides into even sharper relief.
Politics v prosperity
Take, as a taster, UK Brexit lead negotiator David Davis' speech on Thursday night to that group of mainly business leaders in Berlin.
British frustration with what is viewed as EU intransigence when it comes to Brexit prompted Mr Davis to warn: "Don't put politics above prosperity."
The German business leaders were too polite to snort but, in fact, that is how much of the EU sees Brexit and the decision to leave the European single market: as an obvious act (to them) of putting politics above prosperity.
And when Mr Davis went on to insist that now, more than ever, was a time to fight "in a co-ordinated manner" for common values and interests, one German journalist piped up: "So why are you leaving the EU?"
And here we come back to my different-lensed opera glasses in the EU and UK.
I could go on, especially when it comes to Mr Davis. In an interview with my colleague Laura Kuenssberg he said that the UK had already made so many compromises that now it was surely the EU's turn.
This is to fundamentally misunderstand the EU perspective.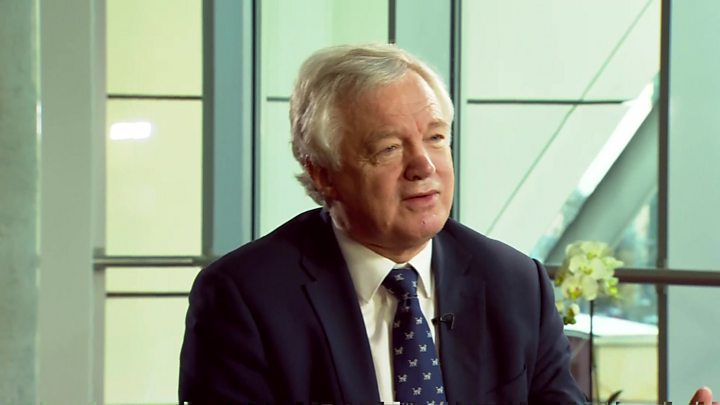 The EU insists that if the UK wants to leave the group yet maintain a relationship, it can only do so in accordance with club rules.
The heads of EU institutions, like Jean-Claude Juncker, like to repeat that the UK is the one who has decided to go. The EU club won't change its rules (such as single market regulations), so the EU argument goes, just to appease a departing party.
In his BBC interview on Friday, Mr Davis also had a parting shot at Germany and the other EU powerhouse France, identifying Denmark, the Netherlands, Italy and Spain among a cohort of countries keen to start talks on trade and transition while Berlin and Paris drag their respective Schuhe and chaussures (shoes).
However, my talks with key representatives across EU countries suggest that, in the face of potential threats from North Korea and Russia, unsure of President Trump's US, following on from the EU migrant crisis and after the Brexit vote, European leaders are more convinced than ever that there is safety in numbers.
It's true that Denmark, Sweden and the Netherlands have traditionally been the UK's closest EU allies and they are still very sad indeed to see Britain go, but this stagnant, bad-tempered Brexit process has worn friendships pretty thin.
Before Mr Davis next names the Netherlands as the UK's best buddy in the face of German and France stubbornness, he should perhaps bear in mind that the Dutch parliament's Committee on European Affairs has just warned MPs to prepare for what it called a chaotic Brexit.
Blame was thrown squarely at the feet of the British government and what its Dutch neighbours described as the UK's "unrealistic expectations".