When the last bank leaves town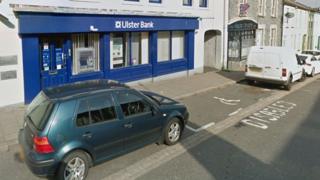 Killyleagh sits on the banks of Strangford Lough, like any other village it has grocers, butchers, and pubs.
But, by next summer, it will not have a bank.
The financial hub of the village is on High Street where Ulster Bank serves the community.
The announcement on Wednesday by Ulster Bank that it is to close the Killyleagh branch next summer came as a real shock.
Ulster Bank has stressed that it has ensured a wide variety banking services will still be available.
It offers 24/7 telephone, online and mobile banking, and services are accessible through the Post Office.
"We are also providing ongoing education for customers in how to make best use of these alternatives," it said in a statement.
"We will also be introducing additional digital and community support roles to assist with this transition."
The bank said it was writing to customers affected, providing six months notice of closures - three months longer than industry guidelines.
"A slap on the face"
Father Brendan Smyth is the parish priest at Star of the Sea church in Killyleagh.
He said the manner in which they announced the closures was "unprofessional".
"We've had no official word that the branch here in Killyleagh is closing," he said.
"Our parish accounts are with the branch here and we haven't been informed of any arrangements that can be put in place to deal with our lodgements."
Fr Smyth said he found out about the closures on Facebook.
"I only found out through my accountant on Facebook who posted something about the Killyleagh branch closing," he said.
"It is highly unprofessional that I had to hear about the closure from Facebook," he said.
Acknowledging the trend towards internet banking Fr Smyth said he is going to have to consider it for the parish accounts.
But he said Ulster Bank can't expect to force pensioners into internet banking.
"Many Ulster Bank customers in Killyleagh have remained loyal and it would appear that it doesn't matter.
"There seems to be no consideration for older customers - it just seems so unfair."
"A big void"
Little over 25-miles away, the town of Rathfriland is still reeling from the shock announcement.
John Murray owns Rathfriland Hardware shop which sits right in the middle of Main Street.
He said the closure will leave "a big void" in the town.
"There is a big passing trade, people come into the town, park in my yard get their bits and pieces in the shop here and go around to the bank.
"If someone has to do their banking they'll have to go to Banbridge.
"More than likely they'll buy their goods there instead of doing two runs to come back into Rathfriland," he added.
Mr Murray opened his hardware shop earlier this year.
"Before I opened the business here it used to be Stewart and James' Hardware," he said.
"The void it left in the middle of the Main Street when it closed was colossal.
"People badly missed it and it's going to be the same with the Ulster Bank closure."
'Wider implications'
Portrush, famous for Barry's Amusements and the Portrush Royal Golf Club, is also to lose its last bank.
The town is synonymous for summer jaunts to the seaside, sandy sandwiches and sticky 99s melting into your hands.
Many locals rely on that seasonal tourist trade to keep their businesses afloat.
William McKittrick runs a café right in the heart of the town.
He thinks the move to close the last remaining bank is a "disgrace".
The Portrush Royal Golf Club is to host The Open in 2019, but without a bank or money exchange Mr McKittrick doesn't know what people are going to do.
"There is going to be no bank here in Portrush, and there is no bank in Portstewart.
"People will be looking to change money but there is no bureau de change," he said.
Panky Doos lunchtime trade comes from people working in the town including employees of Ulster Bank.
When the bank closes Mr McKittrick will lose that, but he added that losing customers doesn't compare to the hardship of the Ulster Banks employees facing an uncertain future.
The move towards online banking may be the way of the future, but Mr McKettrick believes that the banks shouldn't ignore the needs of their older customers.
"It is far easier for me to do my banking online.
"But we have to remember the older generation - they have been loyal customers for years and they are not being thought about in this."