What is the case against Ratko Mladic?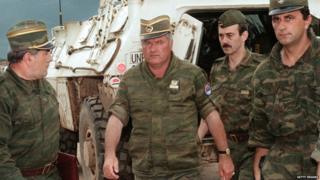 Ratko Mladic has been found guilty over some of the worst crimes of the wars in former Yugoslavia, including genocide.
The UN war crimes tribunal in The Hague sentenced him to life imprisonment.
He was the military commander of Bosnian Serb forces in the 1990s, against Bosnian Croat and Bosniak (Bosnian Muslim) armies.
The Bosnian Serbs' political leader, Radovan Karadzic, was found guilty of war crimes in March 2016 and sentenced to 40 years in jail.
The most notorious crimes in the Mladic indictment are the massacre of more than 7,000 Bosniak men and boys at Srebrenica in 1995 and the siege of Sarajevo in which more than 10,000 people died.
Srebrenica was the worst massacre in Europe since World War Two.
How was Gen Mladic brought to trial?
Now 75, he went on trial in 2012.
At the end of the war in 1995 he went into hiding and lived in obscurity in Serbia, protected by family and elements of the security forces.
He was indicted for genocide and crimes against humanity but evaded justice for 16 years. He was finally tracked down and arrested at a cousin's house in rural northern Serbia in 2011.
Mladic on trial
Since the trial began in 2012
9,914
Exhibits admitted as evidence
530 days in court

169 prosecution witnesses

208 defence witnesses

377 witnesses appearing in court
Getty
What happened at Srebrenica?
In early July 1995, Bosnian Serb forces besieged an area near the town of Srebrenica. It had been designated a United Nations "safe zone" and was being guarded by 600 lightly-armed Dutch UN soldiers.
The Serbs attacked from the south, prompting thousands of Bosniak civilians and fighters to flee north to Srebrenica. By 10 July some 4,000 had gathered there. The Serb advance continued, and a bigger surge of refugees fled north to the main Dutch base in Potocari.
Gen Mladic summoned the Dutch commander, Col Thom Karremans, and demanded that the Bosniaks disarm to save their lives.
On 12 July, some 15,000 Bosniak men of military age broke out of the enclave. They were shelled as they fled through the mountains. Some were also killed after surrendering.
Buses then deported an estimated 23,000 women and children to Bosniak territory, while the Serbs separated out all males from age 12 to 77 for "interrogation for suspected war crimes".
Hundreds of men were held in trucks and warehouses.
On 13 July 1995 the first killings of unarmed Bosniaks took place in a warehouse in the nearby village of Kravica.
The Dutch peacekeepers handed over about 5,000 who had been sheltering at their base. In return, the Bosnian Serbs released 14 Dutch peacekeepers who had been held hostage at Nova Kasaba, a Serb base.
Over four days, up to 8,000 Bosniak men and boys were murdered by Bosnian Serbs at sites around Srebrenica.
Dutch partly responsible for Bosnia deaths
Can Serb mayor ease Bosnia's Srebrenica pain?
What was the siege of Sarajevo?
Civilians in the Bosnian capital endured a brutal siege in 1992-1995 at the hands of Bosnian Serb forces, who fired down into the city from the surrounding hills. The death toll was more than 10,000.
It was part of what prosecutors call a Serb "criminal enterprise" to spread terror among Bosniaks and Croats, and to drive them from areas claimed as Serb territory.
Sarajevo: looking back 20 years on