Republic of Ireland dreams crushed on home ground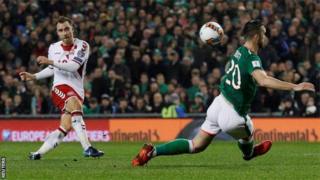 The hoards of football fans heading to Dublin from Northern Ireland knew what they were in for.
A city high on expectation.
The day of destiny had arrived for their Republic of Ireland football team.
The car, bus and coach loads of fans from across the border mingled, as one, with their brotherhood of supporters who had travelled from around the country and from across the globe.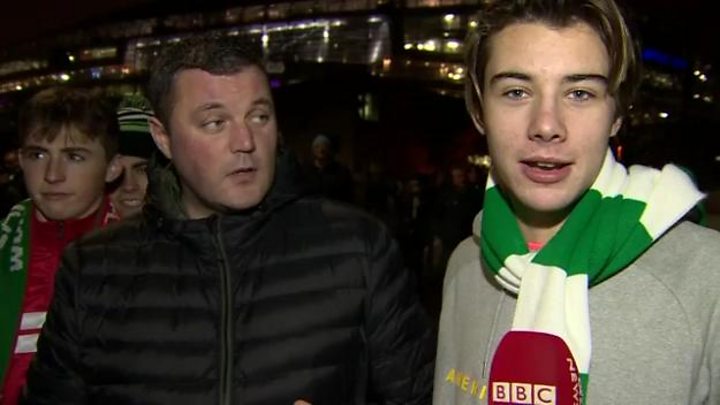 Sharing colourful outfits and legendary Irish football songs and chants, most prominently: "We are the boys in green".
They had a hero in common too - Derry man James McClean.
His name eulogised, and resonating in song and praised around the Irish capital from early in the day.
When the teams were announced in the Aviva stadium in Dublin before kickoff, the loudest cheer was reserved for McClean - their hero.
"Joxer goes to Stuttgart" - immortalised by the legendary Irish singer Christy Moore after Euro '88 - set the scene for early arrivals in the stadium.
The fans were happily taking the cheerful rendition as a good omen.
Just after kick-off, another echo of '88 "We're all part of Jackie's army" - a regular ritual and homage to the former Republic of Ireland manager Jack Charlton.
Five minutes in, another hero. From the same streets and playgrounds as James McClean - Shane Duffy. Soar. Score. Goooooooooal! 1-0.
Thinking summer flights to Russia, credit union loans, extra time off work. The Aviva was giddy. It was rocking too.
The fans bounced and sang, the place was heaving.
The supporters lifted the proverbial roof off the stadium. If only the world of World Cup qualification stopped at that very minute.
Pause, hold, keep! But it didn't, and for the rest of the match the Danes were rampant, led by the hat-trick hero Christian Eriksen.
By the end, a 5-1 defeat and the same proverbial roof had fallen in.