'A World Cup without Italy is like pizza without cheese'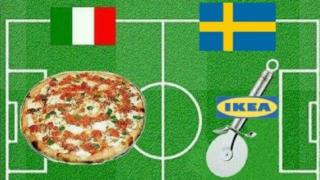 What is the World Cup without Italy? For football fans it is unfathomable. So, when Italy failed to qualify for the tournament for the first time since 1958, the news did not go down very well.
People took to social media to vent their frustration as Italy were beaten 1-0 on aggregate by Sweden.
Words like "disbelief", "shock", "devastated" and "disgrace" were used in abundance amid the realisation the Azzurri - who have provided some of the tournament highlights over the decades - would not be part of the competition next year in Russia.
As Italy fans discussed what went wrong, Swedish fans delighted in their victory. Images featuring pizza, Ikea furniture, and meatballs began emerging as football fans visualised the Italian defeat.
"I can't believe it," posted one Italy fan. "A World Cup without Italia is like pizza without cheese."
The analogy was quickly rebuked with the reply: "There are plenty of pizzas without cheese."
Actor, presenter and Italy fan Paolo Ruffini asked: "What the hell are we going to do next summer?"
The hashtag #Italiafuoridaimondiali - which translates to "Italy is out of the World Cup" - has been used more than 2,500 times, with many social media users reacting furiously to Italy coach Gianpiero Ventura, and President of the Italian Football Federation Carlo Tevecchio.
You may also like:
Others offered alternative reasons as to why Italy failed to qualify.
A video clip of former Prime Minister Matteo Renzi speaking to Russian President Valdimir Putin in 2015 also began to be shared. In the clip Renzi tells his counterpart that Italy want to win the World cup in Russia.
Suggestions the defeat was down to a Russian hacker was offered as a possible cause, as were claims too much immigration resulting in foreign players was the reason for Italy's football demise.
If Italy's defeat wasn't bad enough, fans were dealt a double whammy when an emotional Gianluigi Buffon, Italy's captain, announced his retirement in a post match television interview.
"I'm sadder seeing Buffon retire from international football than when my house flooded," posted one fan.
Another post read: "Thank you Gigi Buffon for a legacy of class and memories."
On Reddit's r/football sub-section, there were similar criticisms of Ventura and commiserations for Buffon, as well as Daniele De Rossi and Andrea Barzagli, who are also set to retire from international football.
Many congratulated Sweden, while some suggested an alternative "mini-tournament" with the Netherlands and the USA, who have also failed to qualify.
By Rozina Sini, UGC and Social News