German court sentences Swiss tax spy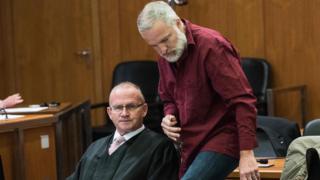 A German court has given a Swiss intelligence agent a suspended jail sentence of a year and 10 months for spying on German tax officials.
Daniel Moser, 54, admitted having spied for the Swiss intelligence service FIS.
He targeted four officials in Germany's North Rhine-Westphalia state, who were tracing secret Swiss bank accounts held by suspected German tax dodgers.
The court in Frankfurt also fined him 25,000 euros (£22,200; $29,000). He was arrested in the financial hub in April.
Switzerland objects to the practice of buying data stolen from Swiss banks.
Moser gave the Swiss Federal Intelligence Service (FIS) information about three tax inspectors and a lawyer suspected by Swiss authorities of obtaining so-called "tax CDs".
Since 2010, North Rhine-Westphalia - Germany's most populous state - has paid whistleblowers millions of euros for data CDs revealing secret Swiss bank accounts. They are trying to recover large sums hidden by German tax dodgers.
Moser paid a German security consultant for help in the spying operation. The court did not establish whether Moser had recruited a mole inside the state's finance ministry - something his FIS handler had requested.
The data passed on by Moser helped Swiss prosecutors to build a case against the four German officials. He was paid 3,000 Swiss francs (£2,292) for the data and the same amount monthly to cover his expenses, during a five-month period.