Do Europe's 'illiberal democrats' challenge the EU's values?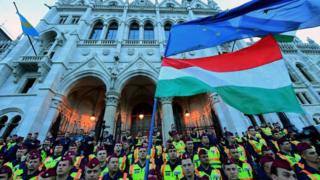 Critics have said that Poland and Hungary are beginning to diverge from the democratic values espoused by the European Union. Will this lead to a clash with the other members of the EU?
In May 2004, 10 new states became members of the EU, including Poland and Hungary, both former Communist bloc countries. They looked like they were on a straightforward trajectory to embrace Western liberal values such as social tolerance, an independent judiciary and commitment to free speech.
But 13 years on, some of those who rejoiced at them joining the EU fold, now fear they are backsliding on fundamental democratic values.
Take a walk down Nador Street, in Budapest, and you'll see posters in almost every cafe window bearing the hashtag slogan #IstandwithCEU.
CEU is the Central European University and according to its rector, Michael Ignatieff, it has been "taken hostage" by the Hungarian government.
It's even, reluctantly, contemplating the possibility it might have to leave the country because of laws passed this spring.
"It would be the first time that anyone can remember a European university being forced out of a European state," says Prof Ignatieff, "It would be a scandal."
One way to understand why a world-class university now fears for its survival in Budapest, is through the prism of the bitter feud between two famous Hungarians, Viktor Orban and George Soros.
The first has been prime minister of Hungary for the past seven years, heading the conservative Fidesz government. The second is the US-based billionaire who became a philanthropist after making his fortune speculating on the global money markets.
The CEU was founded by Mr Soros in 1991 as an American-style university based in Budapest.
It was designed to educate the future leaders of former Communist countries.
Mr Orban argues it has an unfair advantage over other institutions because it can issue degrees in both the US and Hungary.
But Prof Ignatieff believes that is a smokescreen.
"The issue is freedom," he says.
"We are a free institution in a regime that is not sympathetic to free institutions and has substantially reduced freedom of press and has restricted the independence of the judiciary."
Mr Orban is gearing up for a re-election campaign next year that will portray Mr Soros as a shadowy puppet-master trying to undermine Hungary from abroad.
Prominent, too, will be anti-migrant rhetoric.
Since 2015, Mr Orban has been warning of a "Muslim invasion", after 400,000 people crossed Hungary en route to Germany and other Western countries.
Zoltan Kovacs, Mr Orban's press spokesman, unapologetically shrugs off criticism of the use of such inflammatory language.
"You can simply call it an invasion - because it was very unnatural," he says.
"It was not families most of the time.
"It's a mass migration crisis in which young males are coming to the continent.
"If you don't talk about that, you are going to face a problem."
Mr Kovacs argues leaders such as Mr Orban are helping to preserve European heritage, unlike the German Chancellor, Angela Merkel, who has made a point of welcoming thousands of refugees.
"European culture is based on Christianity - like it or not," he says.
"Our vision is to maintain the original cultural environment in which Europe has flourished.
"We want to stay as we are - a Christian continent."
Poland is another country some say is moving away from liberal values and even embracing an ultra-conservative vision.
It has been governed by the Law and Justice Party (PiS) since 2015.
Like Hungary, it has been accused by the EU of attempting to interfere with the judiciary and politicising the media landscape.
In October, I watched hundreds of protestors tramping through Warsaw's streets to mark the anniversary of a campaign against government plans to ban abortion completely, including in cases of rape or incest.
The day after this demonstration, the police raided the offices of two women's groups.
One of the regulars at these protests is the raven-haired pop singer Kayah.
She accepts that not everyone will agree with her own pro-choice views, but she was particularly shocked when she found herself disinvited to a major song festival sponsored by a public broadcaster.
She is certain it was to do with her outspokenness and hints she is even nervous of talking to the BBC.
"When I was speaking up for women's rights, I became the face of the opposition and I was often told that I'm an artist and I should not mix it with politics," she says.
"But come on, I can have my own opinions. As a citizen, I even think it's my duty."
But Dominik Tarczynski, an MP for the governing Law and Justice Party, is irritated by the suggestion that Poland is becoming more authoritarian.
"We're portrayed as a dictatorship, but they are free to protest," he says. "No-one was shot. No-one was beaten.
"The way we have these peaceful protests is proof that Poland is a major democracy. We're not North Korea or Saudi Arabia."
He points out that millions of voters elected the Law and Justice Party and it's currently at about 40% in the opinion polls.
As with Hungary, the opposition parties are weak and divided.
What's more, both countries are enjoying strong economic growth, which helps keep their governments popular.
Ironically, much of that growth is based on EU structural funds.
That raises the question how will Brussels confront countries that want the economic benefits of EU membership but are accused of no longer subscribing to the union's core values.
There is a process, called Article 7, that could ultimately deprive Hungary and Poland of their EU voting rights at government level.
The biggest problem with the full implementation of Article 7 is that it requires the unanimous consent of all the other European member states.
So Poland and Hungary could simply cover each other's backs by vetoing any final attempts to withdraw their voting rights.
Some worry that if Hungary and Poland are punished with this "nuclear option", their pro-EU populations may be pushed towards Euroscepticism and even contemplate breaking away all together.
But others argue the EU needs to be prepared to use Article 7, if only as a warning to those member states that may consider copying Poland and Hungary.
"We cannot stand by and watch fundamental rights in both countries being breached because of the sensitivity or worry about potential future exits," says Claude Moraes, a British MEP.
"The concern is that it might get worse if the contagion picks up and we get an increase in populism."
Mr Moraes chairs the European Parliament's Civil Liberties, Justice and Home Affairs Committee.
Following a vote in the European Parliament this spring, his committee has already started an Article 7 process against Hungary and despatched a special rapporteur to examine what is happening there.
The EU Commission has warned Poland it could face similar measures if it continues with its controversial plans to reform the judiciary.
But everyone accepts this process is not going to be a quick or simple solution.
For Prof Ignatieff, it's less about processes and more about ideas.
With his wire-rimmed spectacles balanced on his nose, he sums up the problem succinctly.
"Eventually Europe has to decide if it's just an economic union or a political union around a set of values," he says.
"That battle is being fought here in Hungary." And, one might add, in Poland too.
Europe's Illiberal Democrats is on BBC World Service at 13:30 GMT on Tuesday, 14 November.