Syrian working on prison torture film stabbed in Istanbul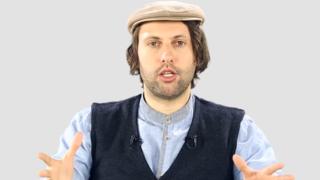 A Syrian film director working on a feature about one of the most notorious prisons in the country is in intensive care after being stabbed in Turkey.
Muhammad Bayazid, who was documenting torture at Tadmur prison in eastern Syria, was attacked on Tuesday evening in Istanbul.
Mr Bayazid's wife, Samah, said it was an "assassination attempt".
Tadmor prison, located in Palmyra, is infamous for the killing of hundreds of detainees there in 1980.
Mrs Bayazid, who co-directs with her husband, wrote in a post on Facebook she was "trying to be strong", adding that the extent of her husband's injuries was "not yet clear".
Mr Bayazid remains in intensive care, according to his friends, who have offered prayers and messages of support.
Mohammed Ghanem wrote on social media he was "deeply disturbed" by the "horrendous" news, adding that Mr Bayazid had been "stabbed in the chest while travelling to work".
Mr Bayazid has been working on a documentary covering events at Tadmor prison, which is said by the campaign group Human Rights Watch to have been responsible for "extremely brutal abuses".
The facility was blown up by so-called Islamic State (IS) in May 2015 after militants seized control of the ancient city.
Since the start of Syria's civil war six years ago, Turkey has become home to more than three million Syrian refugees,
Many of them are opposition supporters and there have been previous deadly attacks:
Last year, a Syrian journalist who had reported on the fight against IS was shot dead
In 2015, three Syrian activists from a group that opposes IS were killed in Turkey