Irish budget: Finance minister Paschal Donoghue announces first budget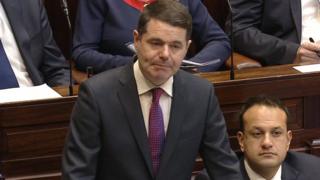 The Irish finance minister has told the Dáil (Irish parliament) that his first budget will build on progress that would have looked impossible a few short years ago.
Paschal Donoghue said he would balance the books and reduce the national debt.
He said he would do this while also being mindful of the threat of Brexit and uncertainty about US trade policy.
Mr Donoghue announced he would introduce a rainy day fund to deal with unforeseen threats to the economy.
It will be kicked off with 1.5bn euros (£1,3bn) from the Ireland Strategic Investment Fund, which makes commercial investments with state finances, before annual payments of 500m euros (£450m) per year are made from 2019.
"This is another important step in strengthening the national finances in a changing and risky world, especially in light of Brexit," the minister said.
He told the Dáil that social welfare is to be increased by 5 euros (£4.50) a week and that there will be an 85% bonus at Christmas for all social welfare recipients.
The minister told TDs that he has approved an extra 1.83bn euro (£1.64bn) spending on dealing with the Republic's housing and homeless crisis.
He said 3,800 new social housing units will be built next year and levies on vacant property sites would increase from 2% to 6% to deter land hoarding.
Mr Donoghue added that funding for homeless services will be increase by a further 18m euro (£16m) to over 116m euro (£104m) to ensure that emergency accommodation and other supports are available.
The minister also said he was increasing spending on health by 5%, even though spending on the sector is already 30% higher than in other OECD countries.
He told the house that he is introducing a sugar tax at a time when there are major concerns about obesity.
The Republic's finance minister also announced that a packet of 20 cigarettes is to go up to 12 euros (£10.70) - an increase of 50 cent.
Mr Donoghue also said there would be a 300m euros (£268m) Brexit loan scheme aimed at helping small and medium-sizes business, particularly those involved in the agri-business sector, to deal with the UK's departure from the EU.
The money will be used to help these businesses seek out new markets.
He also said that 40 new staff would be recruited into the Department of Business, Enterprise and Innovation in order to deal with Brexit.
Mr Donoghue further announced that because of the fall in the value of sterling he was also going to continue to the lower VAT rate for the hospitality sector.