Turkey coup: Soldiers on trial for bridge deaths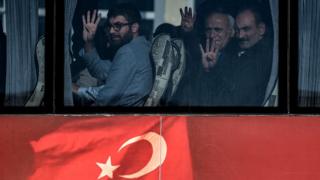 Turkey has put 143 soldiers on trial over the deaths of civilians on an Istanbul bridge during the July 2016 coup attempt by military officers.
The indictment says 34 civilians and seven coup plotters died in the clash on the bridge over the Bosphorus before the troops surrendered to police.
Turkey has already put hundreds of other alleged coup plotters on trial.
A big crowd of civilians confronted troops on the bridge, after President Recep Tayyip Erdogan urged resistance.
The trial got under way at Silivri courthouse, part of a prison complex near Istanbul. Victims' relatives arrived there aboard a special bus to attend the hearing.
Mr Erdogan says the coup attempt was masterminded by Fethullah Gulen, a US-based Muslim cleric who runs an influential network. He has denied any role in it, but Turkey has arrested thousands of his alleged supporters.
The Bosphorus Bridge, where troops opened fire on civilians, has since been renamed as July 15 Martyrs' Bridge.
Mr Erdogan's campaign manager Erol Olcok and his 16-year-old son Abdullah Tayyip were among those killed on the bridge that night.