Pope's first Facebook live deals with child safety online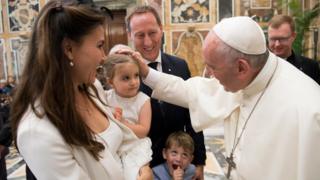 Pope Francis delivered his first-ever address by Facebook Live on Friday - to coincide, aptly, with the end of a week-long event on children and technology.
But as he extolled the importance of protecting children, senior church figures in his own church are mired in abuse scandals.
This was the final day of an almost week-long congress on "child dignity in the digital age".
Hosted by the Centre for Child Protection at the Gregorian University in Rome, it brought together academics, digital companies, and church leaders in was an attempt to focus on the predicament of children online.
It's estimated that there are 3.2 billion users of the internet, of which a quarter (800 million) are children or adolescents.
That's 800 million young people who may be the victims of cyber-bullying, sexting, "sex-tortion", and harassment.
And so the Pope - in conjunction with a special live feed provided by Facebook - took to the stage and offered a fairly raw and uncensored homily on the subject.
What did he say?
From the outset, Pope Francis acknowledged the many benefits that have emerged from digital technology.
"However", he said, "we face a dark side of this new-found world, a world which is enabling a host of social ills that are harming the most vulnerable members of society."
"This is the existential question facing humanity today", he said, and warned: "We have to keep our eyes open and not hide from the unpleasant truth that we would rather not see."
He then went on to describe a litany of abuses that originate online - the solicitation of minors for sex, people trafficking, even the commissioning and live viewing of acts of rape and violence against minors.
He also warned of the dangers of underestimating the impact and harm done to children who may be viewing such horrendous images.
"The progress of neurobiology, psychology and psychiatry have brought to light the profound impact of violent and sexual images on the impressionable minds of children."
Hypocrisy?
Earlier on Friday in Melbourne, Cardinal George Pell - treasurer and one of the most senior figures in the Vatican - appeared in court accused of multiple charges of historical child sexual abuse.
In March next year, Cardinal Pell will face a committal hearing to determine whether there is sufficient evidence for him to stand trial.
He has strongly denied any wrongdoing. His lawyer has said the cleric will plead not guilty to all charges.
In addition, a senior diplomat in the Vatican's embassy in Washington DC, Monsignor Carlo Capella, was accused two weeks ago of possessing child pornography.
Canadian police issued a warrant for his arrest, alleging that he had distributed child pornography during a Christmas visit to Ontario last year.
At the very highest levels of the Vatican, Pope Francis has to deal with allegations of child sexual exploitation.
And so, almost inevitably, the charge of hypocrisy has been levelled against him.
I think this is an attempt by Pope Francis to confront an issue that has cast the darkest of clouds over the entire church's ministry. And since he has never been personally accused of such wrongdoing, it probably enables him to speak with confidence about the issue.
Just two weeks ago, speaking to the Pontifical Ministry for the Protection of Minors (a ministry he set up in 2014), he said that the church had "lagged behind" other institutions and had also engaged in the "wrongful practice" of redeploying priests following allegations of abuse, instead of stopping them from continuing in ministry.
He went on to say that "the Church irrevocably and at all levels intends to apply the principle of 'zero tolerance' against the abuse of minors by members of the church."
The challenge for Pope Francis is whether the credibility of his efforts will continue to be undermined by allegations against such senior figures within the Vatican.