Catalonia referendum: What's the story behind this photo?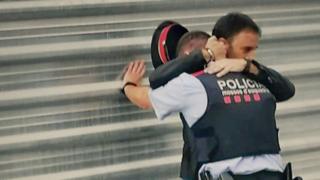 An unidentified man embraces a distressed Catalan policeman, his arms propping him up against a metal fence.
This powerful photo captured a moment as images of police beating protesters spread on social media during Sunday's referendum vote in Catalonia - and it was taken by an 18-year old man on his phone.
Hundreds were injured, including 12 police officers, in clashes between voters and police in the semi-autonomous region when Spanish police were ordered to prevent a referendum on independence from going ahead. The vote had been declared illegal.
Caught between the two groups was the Catalan police force, whose chief of police, Josep Lluis Trapero, appeared before a judge in Madrid on Friday, accused of sedition against the state for failing to protect Spanish national police from protesters.
Computer science student Boris Llona was outside the polling station in his home town of Lleida, Western Catalonia, when he took a picture on his mobile phone that would become a symbol of the distressing divisions provoked by this crisis.
"There were about 35 Spanish police officers and two Mossos d'Esquadra, or Catalan police officers," Boris told the BBC.
"The Mossos had been ordered to assist Spanish police in preventing the voting, but when Spanish police started beating people, the two Mossos couldn't do anything to stop it."
Video taken outside the polling station shows confrontations between police and protesters as well as people trying to vote.
"People started shouting, "Mossos are our police, not you", referring to the Spanish police," Boris explained.
"I think the feeling of impotence distressed him, and so some neighbours started consoling him.
"I took the photo because I saw two emotions that strongly contrasted with each other.
"On one hand there was the anger and impotence they could do nothing to stop the barbarism, and on the other hand the emotional hug from a Catalan man, showing that we all are citizens with different tasks in society."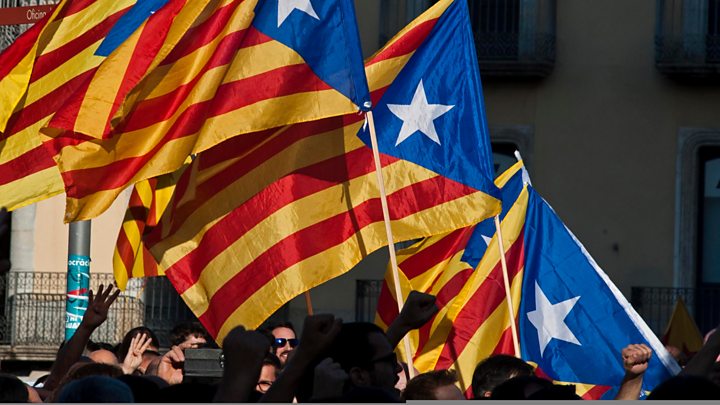 Boris later met the man who he photographed hugging the policeman.
"They were not already friends. They were behaving like it was first time they saw each other," he explained.
The reaction to Boris's photograph has been huge. Within hours, it was shared more than 3,000 times on Twitter.
"I think that people liked the photo because of the emotion it shows - it's very significant to see a policeman crying because he felt powerless," suggested Boris.
By Georgina Rannard, UGC & Social news