Young Spaniards worry they might have to leave Catalonia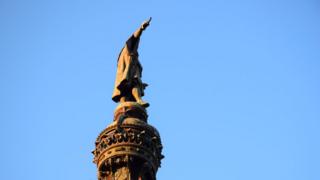 One of the more spectacular measures proposed by a radical Catalan separatist party last year was to pull down Barcelona's famous Christopher Columbus Monument.
Despite this outside shot by a handful of CUP city councillors, who regard it as a symbol of slavery, the landmark 60m (200ft) column is very much still standing, the explorer pointing with his bronze hand out to sea and the New World.
But some Catalan Spaniards saw the proposal as an attempt to erase their Spanish identity in the city, a sign of things to come, like Sunday's vote for independence.
"This is the final crash," Juan told me after watching Catalan President Carles Puigdemont's post-referendum interview with the BBC, where he confirmed he would press on with independence. "I will have to leave Catalonia if it happens."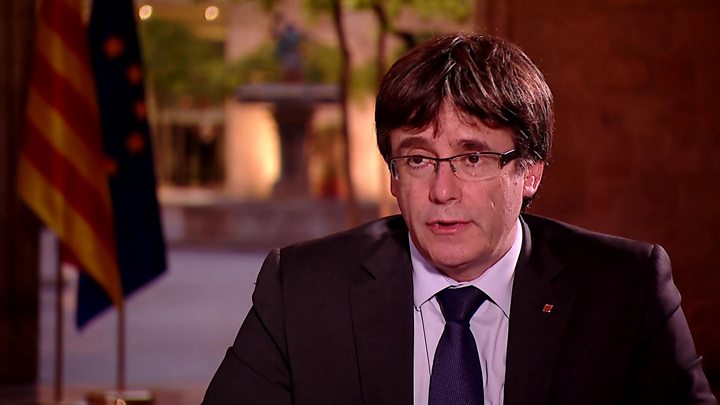 The thought of abandoning the land of his birth tortures him. He is one of some 40% of Catalans who voted for unionist parties at the last legal election, in 2015 - the bedrock of support Madrid counts upon in the restive region.
Young men like him are nervous about speaking out, fearing they may suffer in their careers if they end up as a minority in a foreign country, but some of them, mostly young professionals, agreed to share their thoughts with me over the messaging service WhatsApp, on condition of anonymity.
What would happen to them after independence?
One common fear is that Catalan Spaniards, many descended from generations of migrant workers from the poorer south of Spain, will become second-class citizens, viewed with suspicion like Mexican migrants in the US.
Sergio believes the independence movement has not thought through the full implications of its goal.
"What would happen to our grandparents' pensions?" he asks.
"Are they expecting pensions to be paid by Spain, like Donald Trump with his wall paid for by the Mexicans? What will happen the very next day? What currency will we have? Will we stay in Europe?"
Sabadell, Spain's fifth-biggest bank, has said it will move its legal base out of Catalonia. Other firms may follow.
"I'm really worried because many companies are leaving us," says David.
"I just see irresponsibility from the independence movement when they say: 'Go away, we don't mind because we'll have more job opportunities'.
"They say so without taking into account the families that will get separated after this process. It looks like they just want more opportunities for themselves, without taking into account other people."
Are they Spanish or Catalan?
"We feel Catalan and Spanish and I'm not going to allow independence supporters to take my culture away," says David.
"I am who I am thanks to all of Spain, not only Catalonia. Catalonia is my home but the rest of Spain defines my personality as well.
"In Spain we've got lots of amazing things which make all of us better people, and nobody has the right to remove those things from our lives."
Sergio fears Catalan Spaniards are being excluded from the future state that independence campaigners advocate.
"The Catalan government currently speaks only in the name of the nationalists, referring to the 'Catalan country'," he says.
"The first thing Puigdemont said was 'the Catalan people are more united than ever'. Not true! The Catalan people are more divided than ever but as he only addressed one part of the people, obviously those are united.
"But beware that we too are united."
What does it mean to say you are proud of Spain?
"Some of us feel insecure because if you take the Catalan flag you are a democrat, but if you take the Spanish one, you are a fascist," Juan says.
"I don't like flags, any of them," he goes on.
"It is not politically correct to say that you feel Spanish if you want to be 'progressive' or a democrat. One of the things the independence movement hates most is that left-leaning people are against them, which I think is really coherent because parties of the left are historically internationalist, not nationalist."
"Just opening your mouth doesn't make you a fascist," says David.
It should be said that the CUP, the junior and more volatile partner in the separatist alliance, is an anti-capitalist party, and independence campaigners have sought to portray their cause as being above traditional party politics.
"All of Spain helped build Catalonia's powerful industries, subsidising its goods," Dani says.
"Are they really saying they are morally superior, that only in Catalonia people know what democracy is?
"For years they've been saying 'Spain is stealing from us' but can you call 40 million people thieves after they paid for the 1992 Summer Olympic Games in Barcelona, for example?"
How heavy a personal toll does the crisis present?
"I'm tired of seeing how friends stop being friends and unnecessary conflicts divide families," says David.
"It's not true when the Catalan government say their policies are for everybody - they are just dividing us. The end doesn't justify the means."
"My parents are from Andalucía, in the south of Spain, and these days they are suffering a lot," says Juan.
"They feel [like] foreigners in their own country because something is happening for which they never voted."
Juan has not personally had any problems, even with people who know he opposes independence.
"But it is also true to say that the 'process' is sometimes like a taboo.
"I've been seeing a girl for many months now and when the issue arises, we feel uncomfortable with each other because she is pro-independence.
"Up until now, we haven't spent more than two minutes talking about it, and I love debating about political stuff, but it's really hard with a person you're very close to."