'German James Bond' Werner Mauss sentenced for tax evasion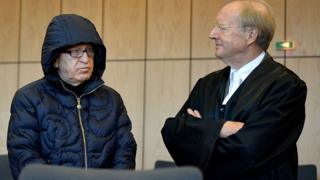 One of Germany's top former spies, known for his undercover work to expose criminality, has himself gained a criminal conviction.
A German court handed Werner Mauss a two-year suspended jail sentence for tax evasion and ordered him to donate €200,000 (£180,000) to charity.
Mauss, nicknamed the German James Bond, was accused of hiding more than €15m ($17m, £13m) in offshore accounts.
Prosecutors had sought a jail sentence of six years and three months.
Judge Markus van den Hoevel said he had considered Mauss's "impressive life achievement" when deciding on the sentence.
Mauss, 77, says he helped thwart a plot to poison the former Pope and recovered treasures stolen from Cologne Cathedral.
His lawyers say he will appeal the sentence handed down by the court in Bochum.
---
Mauss's missions
According to his website, Werner Mauss's criminal-busting exploits include:
Smashing more than 100 criminal groups, resulting in 2,000 arrests
Freeing hostages held by Colombian rebels
Ensnaring international criminals
Tracing 41 barrels of toxic waste that went missing after an explosion at a chemical plant
Catching Red Army Faction terrorist Rolf Pohle in Athens
But Mauss says he prefers to use his brain over brute force, and only used a firearm once - on a robber in 1969
---
For years, Mauss appeared in no images and he went by numerous aliases, says Germany's DPA news agency.
He also tried to shield his face from the cameras when his trial began in 2016.
At the centre of case against him was a series of overseas bank accounts in Luxembourg, Liechtenstein and the Bahamas in which Mauss was accused of hiding more than €15m.
Mauss claimed that the accounts were set up by Western and Israeli intelligence officials in the mid-1980s to fund covert security operations around the world.
But his argument that confidentiality agreements prevented him from mounting a proper defence was rejected by the court.