Scotland's first minister to visit Dublin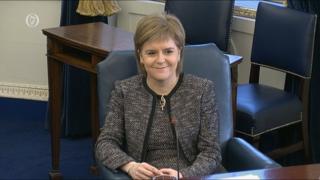 Scotland's first minister is due to visit Dublin, where she will meet political and business leaders later on Thursday.
It will be Nicola Sturgeon's second trip to the Republic of Ireland in less than a year.
She is expected to discuss trade and both countries' common position on Brexit.
It is the first time the Scottish leader will meet the Taoiseach (Irish PM) Leo Varadkar since his election.
Ms Sturgeon will make the journey after First Minister's Questions at the Scottish parliament.
Last year, Ms Sturgeon addressed the upper house of the Irish Parliament.
During her speech she described Brexit as the "greatest foreign policy challenge that Ireland has faced since it joined the European Union".
This year, she will focus on the importance of trade between Scotland and the Republic of Ireland and Brexit - particularly around her desire to remain within the European single market and customs union.
In August, the Scottish first minister dismissed the UK government's plans for post-Brexit customs deal with the EU as a "daft 'have-cake-and-eat-it' approach".