Germany: Former AfD leader Frauke Petry charged with perjury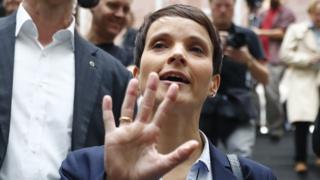 Prosecutors in Germany have charged one of the country's most prominent right-wing politicians with perjury.
Frauke Petry, a former leader of Alternative for Germany (AfD), allegedly lied under oath.
She was accused in 2015 of giving false testimony about AfD campaign financing in the run-up to 2014 regional elections.
A senior public prosecutor said the court now needs to apply to lift Ms Petry's parliamentary immunity.
Lorenz Haase, a prosecutor in the east German city Dresden, said the case is unlikely to proceed quickly.
Until the federal elections in September, Ms Petry, 42, was the co-chair of AfD.
However, less than 24 hours after the results were announced, she shocked her party by announcing she would not sit with AfD and would instead to take up her seat as an independent MP. A day later she quit the party.
AfD had won 12.6% of the votes, making it the third party in the parliament and first right-wing nationalist party to win seats in parliament since the 1950s.
Ms Petry took over as leader in July 2015 after an internal power struggle that saw the party's co-founder and first leader, Bernd Lucke, ousted.
Ms Petry, who was leading a more moderate wing within AfD, has recently sought to distance herself from some of the party's extreme positions.
While AfD says Islam does not belong to Germany, Ms Petry has said if Muslims accept religion is a private matter and do not make political demands based on it, they can make Germany their home.
She has also said that she favours controlled immigration of qualified foreigners, but others in AfD favour a ban on all kinds of immigration.
Recently asked by Welt am Sonntag newspaper whether she wanted to form her own parliamentary group and then a new party, Ms Petry answered "yes".