Danielle McLaughlin: Goa murder case to be 'fast-tracked'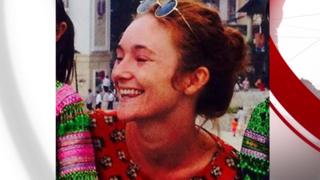 The family of an Irish woman who was raped and murdered while on holiday in India have confirmed that her case is being "fast-tracked".
Danielle McLaughlin from County Donegal was found dead in a field in the western state of Goa in March.
A second post-mortem examination, this time in Ireland, reaffirmed brain damage and strangulation as the cause of her death.
Vikat Bhagat remains the only person charged in connection with the case.
The 24-year-old is to go on trial for her murder, he will also face rape charges.
In a statement, Ms McLaughlin's family revealed they have received the "charge" documentation in the case from the prosecution authorities in India.
They expressed their "sincere gratitude" to the coroner's office in Dublin and the Chief State Pathologist, Dr Marie Cassidy.
Her report "among other things" confirmed the cause of Ms McLaughlin's death as being in line with the first Indian post-mortem examination.
They also thanked the British Consulate in Mumbai for their "invaluable assistance".
Ms McLaughlin grew up in Buncrana, County Donegal, in the Republic of Ireland. She had travelled to India in February.
The family's solicitor, Desmond Doherty, said they had dealt with a lot of documents and information over the last number of months.
"They are still trying to cope with and come to terms with the tragedy that has occurred," he said.
"Danielle's family remain hopeful that the truth in relation to Danielle's untimely death will be made known and that justice in her memory will be done."