Kursk sub disaster: Russia fined over free speech violation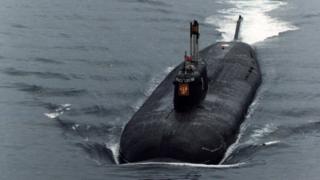 The European Court of Human Rights says Russia must compensate journalists who were sued for articles about the Kursk nuclear submarine disaster in 2000.
The case was won by Novaya Gazeta, an investigative newspaper often critical of the Kremlin.
Russia must now pay it 3,388 euros (£3,007; $3,984), and 2,170 euros to its correspondent Yelena Milashina.
The paper had alleged failure by the military to properly investigate the deaths of 118 Kursk sailors.
The European court ruled that by prosecuting the journalists, the Russian defence ministry had violated Article 10 of the European Convention on Human Rights, which safeguards freedom of expression.
In an investigation, the paper disputed the conclusion of a naval forensic expert, Viktor Kolkutin, that 23 sailors had died eight hours after explosions which had killed most of the crew immediately.
Novaya Gazeta alleged that the sailors had survived longer than that, and that the navy had bungled the rescue attempt. It meant that there was no punishment of Northern Fleet officers for criminal negligence over the Kursk disaster.
An official investigation found that two explosions had wrecked the submarine after fuel leaked from a torpedo during a naval exercise.
Another military expert reported that dull repeated knocking heard from the sunken submarine was not an SOS message from the survivors, but some other unidentified noise from a surface ship.
In 2005 a Moscow court had made the newspaper and Milashina pay 57,000 roubles (£744; $985 at today's rates) in fines for defamation, over their reporting of the military experts' conclusions.