Obituary: Liam Cosgrave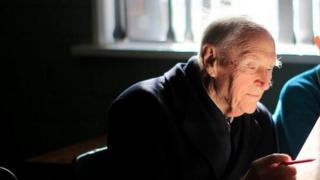 Liam Cosgrave was, until his death aged 97, the oldest surviving taoiseach (Irish prime minister).
The son of WT Cosgrave, the first head of government of the newly independent Irish Free State, he grew up in a family steeped in politics.
He joined Fine Gael at 17 and studied law at University College Dublin.
He was called to the Irish Bar in 1943 and elected as a member of the Irish parliament in the same year.
He became a cabinet member in the 1954 inter-party government led by John A Costello.
Liam Cosgrave was elected Fine Gael leader in 1965 and led the party for eight years, becoming taoiseach in 1973 of a Fine Gael-Labour coalition government.
As the Republic's prime minister he had to deal with the developing Troubles in Northern Ireland and the economic implications of the 1970s international oil crisis.
His cabinet included many independently-minded and strong-willed characters including Dr Garret Fitzgerald - who would succeed him as Fine Gael leader after the government's 1977 election defeat - Conor Cruise O'Brien, Paddy Cooney and Paddy Donegan.
'Law and order'
Always regarded as a strong "law-and-order" politician, he was very opposed to the Provisional IRA's campaign of violence.
Mr Cosgrave's reputation suffered when he did not discipline his defence minister, Mr Donegan, who had labelled President Cearbhall Ó Dálaigh a "thundering disgrace" for referring anti-terrorist legislation to the Supreme Court to test its constitutionality.
He was Taoiseach at the time of the 1973 power-sharing Sunningdale Agreement that was brought down the following year by the Ulster Workers' Council Strike.
But in the public mind south of the border, Dr Fitzgerald was probably the politician from the Republic most identified with the accord.
Mr Cosgrave was also a traditional Catholic and voted against his own government's proposal to ban the importation of contraceptives for married couples.
He was very much on Fine Gael's conservative wing, and always had an uneasy relationship with the much more liberal Dr Fitzgerald.
Never a charismatic politician, in one ard fheis (conference) speech Mr Cosgrave attacked "blow-ins" who could "blow out or blow up", and also criticised those whom he described as "mongrel foxes" - which was seen by many as a reference to Dr Fitzgerald.
After he resigned as Fine Gael leader and left the Dáil (Irish parliament) in 1981, Mr Cosgrave was able to devote more time to his passion of horse racing.
He is survived by his three children Mary, Liam and Ciaran.