Rescue 116: Missing crewman's helmet and lifejacket found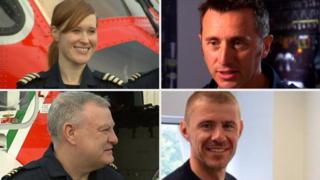 Clothing found on a County Mayo beach belonged to a crewman who is still missing six months on from a fatal helicopter crash, police have said.
Four people were on board Irish Coast Guard Rescue Helicopter R116 when it crashed on 14 March, but only two bodies have been recovered to date.
A lifejacket and helmet was found washed up near Elly Bay at the weekend.
Gardaí have confirmed they belonged to winchman Ciarán Smith, who is missing along with his colleague, Paul Ormsby.
'Big step forward'
The lifejacket was intact, inflated and in "relatively good condition", according to Irish broadcaster RTÉ.
The helmet was still attached to the lifejacket.
The officer leading the investigation, Supt Tony Healy, described the find as a big step forward.
Extensive searches have been carried out in the area since the crash, but so far, they have failed to locate the missing crew members.
The bodies of Captain Dara Fitzpatrick and Captain Mark Duffy were found in the days following the tragedy.
The find was made on a stretch of coastline to the east of the Inishkea islands.
It is thought that a cord on the jacket may have snagged on a rock in recent days and brought it to the surface.
The discovery has led to plans for renewed searches in the area but Supt Healy said they will be weather dependent.
Despite a detailed shoreline search after the discovery, no further material has been found.