Toulouse jihadist killings: Merah 'accomplices' on trial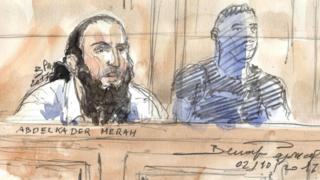 Two alleged accomplices of the Toulouse jihadist Mohamed Merah, who killed seven people in 2012, have gone on trial in Paris.
One of them is Abdelkader Merah, 35, a brother of Mohamed, who attacked French soldiers and a Jewish school in his 2012 rampage.
Abdelkader is accused of having helped to steal a scooter used in the attack. He denies having encouraged Mohamed.
The second suspect is Fettah Malki, 34, accused of giving Merah a weapon.
As well as an Uzi machine pistol, he is accused of providing him with ammunition and a bullet-proof vest.
Prosecutors are seeking life imprisonment for Abdelkader Merah and 20 years for Fettah Malki.
Another Merah brother, called Abdelghani, rejects Islamist ideology.
Police shot and killed Mohamed Merah, 23, after a 32-hour siege.
Merah had filmed his murders with a head-mounted camera, which investigators later seized with the recording. He killed three soldiers, then stormed into a Jewish school, killing three children and a teacher.
The high-profile trial - held amid tight security - is expected to last about five weeks.
Merah's mother - Zoulikha Aziri - was among those attending the opening court session.
Samuel Sandler, related to three of Merah's victims, was also there. His son Jonathan, 30, was murdered at the school, along with grandsons Gabriel and Arié, aged five and three.
My brother the French jihadist
Merah had travelled to Syria, Egypt and Pakistan and had contacted a group linked to al-Qaeda.
Merah's rampage was the first jihadist attack in France since those of the Algerian GIA group in 1995.
The Charlie Hebdo massacre in January 2015 began a new wave of jihadist attacks in France, which have claimed more than 240 lives. In most cases they were inspired by so-called Islamic State (IS).