Paris jewel raids: Three jailed for robberies at De Beers and Cartier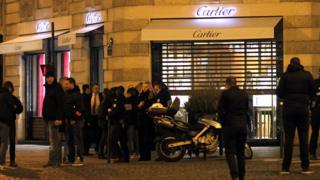 A French court has given three jewel thieves prison sentences of up to 15 years for two robberies in Paris.
In the first robbery, in 2013, criminals made off quietly with millions of euros worth of jewellery from a De Beers outlet.
But a robbery more than a year later from a Cartier store went awry and ended in a gunfight with police.
Prosecutors said similarities in the raids led investigators to charge two of the men with the earlier crime.
At a Paris court on Friday, Dominique Vilaca, involved in both crimes, was jailed for 15 years, as was Ismaila Fofana, 26, who took part in the 2014 heist. His cousin Youssouf Fofana, 25, was jailed for seven years for the De Beers robbery.
The court heard how two robbers had targeted the De Beers outlet in the upmarket Printemps department store in central Paris in February 2013, getting away with jewellery worth about 3.78 million euros (£3.3m). No-one was hurt.
However, in November 2014, police exchanged fire with two robbers as they fled the Cartier store with jewellery worth more than eight million euros.
They took a staff member hostage and led police on a chase across the city before surrendering.
The court heard that Dominique Vilaca fired seven shots as he tried to evade capture.