Italy mafia: Many detained accused of links with 'Ndrangheta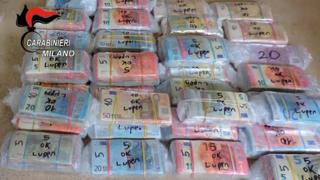 Police in northern Italy have detained 24 people, including a mayor, accused of links with the 'Ndrangheta mafia.
Officials are investigating the group's infiltration of business and politics in the region of Lombardy. The charges include extortion and drug trafficking.
Edoardo Mazza, the mayor of Seregno, near Monza, is accused of favouring a businessman linked to the 'Ndrangheta.
'Ndrangheta, originally from the southern Calabria region, controls much of Europe's cocaine trade.
Mr Mazza, from former Prime Minister Silvio Berlusconi's Forza Italia party, is accused of acting in favour of the construction boss, who has also been arrested, in exchange for votes for his election as mayor, Ansa news agency reports.
He and two others were put under house arrest. The others were taken to jail.
Two other local politicians are also facing accusations, La Reppublica newspaper reports (in Italian).
The northern Lombardy region is one of Italy's richest and includes Milan, Bergamo and Como.