Poland President Andrzej Duda backtracks on appointing top judges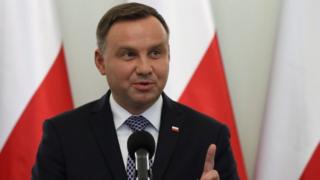 Polish President Andrzej Duda has withdrawn proposals that would have given him a say over the nomination of judges, hours after unveiling them.
He announced the reversal after it became clear that there would be no majority in parliament for the move.
Both the EU and domestic opponents have criticised plans for judicial reform.
In July Mr Duda vetoed bills approved by the governing Law and Justice Party (PiS) to give MPs more control over appointments to the judiciary.
On Monday Mr Duda, an ally of the conservative PiS, announced a constitutional amendment which stated that top judges should be jointly appointed by the president and parliament, but giving the president the final say.
But later in the day he met MPs from both PiS and opposition parties, who criticised his plan. Afterwards he said it was clear the amendment would not win enough support in parliament.
"The point is not about me, as the president, to have the power to choose, the point is about the choice being a cross-party one," he said afterwards.
In July Mr Duda vetoed two bills which would have allowed the justice minister to appoint senior judges. But he approved a third, which gave the government the right to name the heads of lower courts.
The bills prompted a wave of demonstrations. Critics accused the government of seeking to politicise the judiciary.
The PiS denies this, saying the court system needs to be overhauled because it is inefficient.
The bills have also been criticised by the EU, which had threatened to impose sanctions if the reforms were not scrapped.