Macron's labour reforms spark huge demonstration in Paris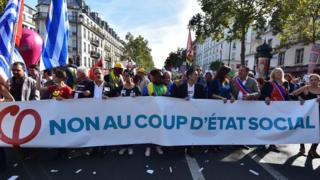 Tens of thousands of people have taken to the streets of Paris in protest at President Emmanuel Macron's overhaul of France's labour laws.
The demonstration was organised by Jean-Luc Mélenchon, the far left leader who has emerged as the president's principal political opponent.
It comes a day after Mr Macron signed a new law aimed at making it easier for businesses to hire and fire staff.
It is the third such protest to take place in France this month.
On Thursday, some 132,000 people took part in nationwide protests condemning the reforms, while more than 220,000 turned out for demonstrations on 12 September.
Crowds gathered in Paris on Saturday after Mr Mélenchon, leader of the radical leftist La France Insoumise (France Unbowed), urged people to join the march from Place de la Bastille to the Place de la République.
Mr Mélenchon, whose party opposes the controversial labour reforms, is an outspoken critic of the president's liberal economic line and has said that the policy changes are an attack on workers' rights.
However now that the reforms have been signed into law, it is too late to prevent the changes from taking place.
But this show of strength in Paris is a marker for the future, reports the BBC's Hugh Schofield from the French capital. They are a warning to President Macron that in the many other reforms that he says are to come, the street will not be silent, our correspondent adds.
Mr Macron, whose government has promised to cut unemployment from its current 9.5% to 7% in five years, has said that he expects months of resistance to the new working laws.
Last month he said that France was "the only big EU economy that hasn't combated mass unemployment for more than three decades", adding that the biggest victims were the young and the unskilled.
Mr Macron has seen his popularity slide dramatically since he came to power on 7 May.
A poll on 27 August suggested his approval ratings had fallen from 57% in July to 40%.
What are the reforms?
France's labour code - with some chapters dating back more than a century - is over 3,000 pages long and is seen by many as a straitjacket for business.
The new laws hand companies more flexibility in negotiating wages and conditions directly with employees, rather than being bound by industry-wide collective deals negotiated by trade unions.
They also cap damages paid to workers for unfair dismissal. Employers have argued that costly and lengthy court cases often discourage them from hiring staff in the first place.
Until now, the minimum pay-out for two years' employment was six months' salary. That will now be limited to three months' pay for two years of work, and 20 months' pay for 30 years.
The president has signed five executive decrees, describing the reforms as an "unprecedented transformation of our social and economic model".