Germany's other vote: Tegel airport row divides Berliners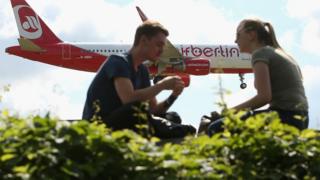 If you want to get a row going at a Berlin dinner party, just mention Tegel airport.
"We had to change the topic in the end," one friend said, after a cordial chat with neighbours over the garden fence threatened to get nasty.
That's because the question of what to do with Tegel, western Berlin's Cold War-era airport, is tearing the city in two.
As voters across Germany go to the polls on Sunday to choose a new parliament, Berliners will also vote in a non-binding referendum on whether to close the airport. Polls are fluctuating wildly, but indicate that a slim majority wants to keep Tegel open.
It's divisive because your views on Tegel reveal your values - the sort of person you are, or would like to be. And it's become a hot political issue.
Fans of Tegel argue that its central location makes it ideal for business travellers. All metal space-ship windows and swooping concrete ramps, the retro main terminal is a provincial West Berlin dream of a jet-set future.
Taxis can drive up to the individual departure gates, each with its own security check. It's very nice for travellers short of time, but expensive to staff; architects in the 1970s were clearly optimistic about the economy.
Supporters say Tegel would be a signal that Berlin, traditionally Germany's economic laggard, is open for business. Voters for the free-market liberal FDP and Angela Merkel's centre-right CDU often want to keep Tegel.
Left-wingers and Green Party supporters, however, tend to want it closed. There are fears that an airport in the city centre has serious environmental and safety risks.
The new airport that remains shut
Certainly the noise pollution annoys local residents. And closing Tegel, the left-wing Senate argues, would allow funds and airlines to be devoted to a new airport, Berlin Brandenburg, generally referred to as BER. Tegel's terminal and runways could then be used for housing, offices and outdoor leisure activities.
The problem is that many Berliners have lost faith in the Senate's ability to make good on promises when it comes to airports. The only thing that everyone can agree on is that it's a mess.
BER was supposed to open in 2011. Today it is billions of euros over budget, and there is still no fixed start date. During that time, numbers of visitors to Berlin have grown so much that the new, not-yet-open airport is already too small.
---
Berlin airports - a rocky ride
1923 - Tempelhof designated as an airport
1936 - Construction starts on Tempelhof terminal, designed by Nazi-era architect Ernst Sagebiel
1960 - Commercial airlines start flying from Tegel, originally an Allied military airbase
1974 - Tegel's main terminal inaugurated
2006 - Construction starts on BER terminal
2008 - Tempelhof closes after referendum
2011 - Initial opening date for BER airport
---
In the meantime Tegel is creaking. It was originally designed for fewer than three million travellers a year.
In 2016 more than 20 million people used Tegel. Berlin's other airport Schönefeld, next to BER, is just as overwhelmed.
Those dinner-party discussions inevitably involve tales of chaos in overcrowded corridors, collapsed transport links and confused-looking tourists - clearly puzzled as to why the capital of Europe's richest country has such shabby airports.
A tale of four airports
Berlin's airport chaos is starting to have a wider impact on the city's economy.
In August, local carrier Air Berlin filed for insolvency, and is still flying thanks only to a government loan.
The airline has struggled for years to compete, squeezed between low-cost carriers at one end of the market and Germany's biggest airline Lufthansa at the other. But the delays at BER, which was supposed to become the airline's new hub, have contributed to its problems.
A decade and a half ago it was all very different. Berlin had three airports, including 1920s Tempelhof, one of the world's oldest and the site of the Berlin Airlift.
Walking from the bombastic Nazi-era terminal across the misty tarmac of Tempelhof, it was always hard not to feel like an extra in the closing scene of Casablanca.
There were no crowds, no queues and no rows about air transport. But there were also no jobs, no tourists and no money. Berlin's present squeeze is a result of its attractiveness and economic success.
Tempelhof was closed in 2008.
Today the Nazi-era terminal houses refugees and the crumbling runways are used by cyclists, skateboarders and picnickers. Berliners love the space.
But after an earlier referendum to build housing around the edge was botched by the Senate, there is still no long-term plan for the site.
So Berlin has in fact four airports: two scheduled to be closed, one already closed, and one not yet open.
What the city will end up with remains unclear. So while the rest of the world watches Sunday's vote to see who is Germany's next chancellor, some Berliners are more interested in what happens to Tegel.