France's Macron signs labour reforms in law, defying protests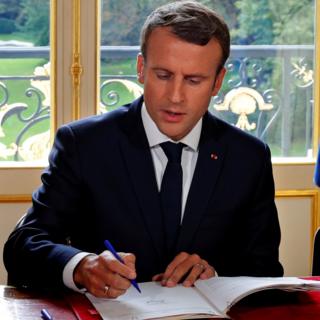 Emmanuel Macron has formally signed an overhaul of France's labour laws, a key platform of his presidency.
Thousands of protesters have condemned the reforms, which make it easier for companies to hire and cheaper to fire staff.
Mr Macron's government has promised to cut unemployment from its current 9.5% to 7% in five years.
There were protests across France on Thursday, but only 132,000 people took part, a big drop on the previous week.
More than 220,000 turned out for demonstrations on 12 September.
What are the changes?
France's labour code - with some chapters dating back more than a century - is over 3,000 pages long and is seen by many as a straitjacket for business.
The new laws hand companies more flexibility in negotiating wages and conditions directly with employees, rather than being bound by industry-wide collective deals negotiated by trade unions.
They also cap damages paid to workers for unfair dismissal. Employers have argued that costly and lengthy court cases often discourage them from hiring staff in the first place.
Until now, the minimum pay-out for two years' employment was six months' salary. That will now be limited to three months' pay for two years of work, and 20 months' pay for 30 years.
The president has signed five executive decrees, describing the reforms as an "unprecedented transformation of our social and economic model".
The move comes after Mr Macron won parliamentary support to push the changes through.
How have unions reacted?
The hard-left CGT union has been behind the protests so far and has vowed to continue its fight.
CGT head Philippe Martinez said the new laws gave "full powers to employers".
However, two of the other big three unions have been more conciliatory.
"The future of trade unionism... is our presence within companies" rather than on the streets, said Laurent Berger, who leads the CFDT union, according to the AFP news agency.
In parliament, Jean-Luc Mélenchon and his radical leftist La France Insoumise (France Unbowed) party are the main opponents of the reforms.
His party is planning a protest march in Paris on Saturday.
What has Macron himself said on the issue?
The president knows the challenge he faces in winning over the electorate, and has predicted months of resistance to the reforms.
France was "the only big EU economy that hasn't combated mass unemployment for more than three decades", he said last month, adding that the biggest victims were the young and the unskilled.
Mr Macron has seen his popularity slide dramatically since he came to power on 7 May.
A poll on 27 August suggested his approval ratings had fallen from 57% in July to 40%.