Bere Island buzzing over mystery lottery win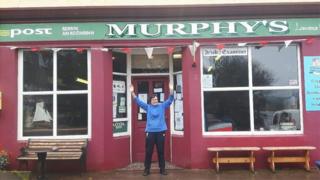 It's the lottery jackpot mystery that has left a small island off the southern tip of the Republic of Ireland feeling lucky.
There is one winning ticket, with a 500,000 euro (£442,555) jackpot - and only 180 possible local winners.
That's the population of Bere Island, County Cork, where the ticket was sold.
And, in a twist reminiscent of comedy film Waking Ned, no one has yet come forward to claim the prize.
'Bought by a local'
Mary Murphy, who sold the winning ticket from the post office that she runs, said nothing like this had happened on the island before.
"I can't believe it, it is amazing," she told BBC Radio Ulster.
"Everyone has been ringing me now, the phones are going mad.
"I never thought when I answered the phone yesterday that I would be told I had sold the winning ticket."
Ms Murphy said she had only sold "a couple" of tickets to people from outside the island.
She believed the winning ticket had to have been "bought by a local" - but added that she wasn't the lucky winner.
The postmistress also explained that even if she knew the person in line for the cash bonanza, her lips must remain sealed.
"Even if I do, I can't say anything, I am not allowed," she added.
"It's up to the person themselves to come forward.
"I really don't know if they will or not, or if they want to remain anonymous.
"It will be hard, but we cannot say anything about it, we just have to stay quiet."