Justice Minister defends retiring Garda chief Nóirín O'Sullivan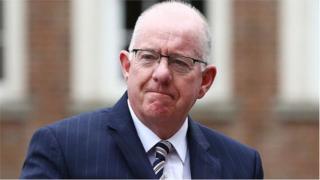 Irish Justice Minister Charlie Flanagan has defended the Garda Commissioner who retired unexpectedly on Sunday.
Nóirín O'Sullivan had faced several calls to stand down over her handling of police whistle-blowers.
The disclosure that the Irish police officers had significantly exaggerated the number of breathalyser tests carried out, also fuelled opposition.
But Charlie Flanagan told broadcaster RTÉ that everything she had done was in the best interests of the Garda.
It is understood that Ms O'Sullivan could retire with a lump sum of close to 300,000 euros (£273,000).
She is also expected to receive a pension of 90,000 euros (£81,900) a year - despite leaving the post halfway through her tenure.
Sources told the Irish Independent that her time as acting commissioner - following the resignation of her predecessor Martin Callinan in 2014 - would help her qualify for a full pension.
She is entitled to a full commissioner's pension after three years in the post.
She announced her decision unexpectedly on Sunday afternoon, saying she spent more of her time on an unending cycle of inquiries, and not on policy or policing.
Speaking on RTÉ's Morning Ireland programme, Mr Flanagan said the possibility that the Garda Commissioner might retire had been suggested to him in recent weeks.
He said he accepted her decision, adding that this had been a very difficult time for An Garda Síochána, but that the force had the appetite to change.
Mr Flanagan said it was important that the reform programme now had a certain momentum.
He added that everything Ms O'Sullivan did had been in the best interests of the gardaí.
Ms O'Sullivan notified Irish Prime Minister (Taoiseach) Leo Varadkar and Mr Flanagan of her decision on Sunday afternoon.
She said she had considered applying for a top job in Europol, but had decided instead to take some time out with her family.
Speaking at that stage, Mr Flanagan said he wanted to acknowledge that Ms O'Sullivan had been "faced with particularly significant difficulties, many of which had built up over several decades".
He said she had shown "enormous resilience, determination and integrity in addressing those challenges".
In June, Leo Varadkar told the Dail that he and his government had confidence in the Garda commissioner.
Earlier that month, Ms O'Sullivan said she had asked a watchdog to begin investigating alleged financial irregularities at the Irish police force's training facility.
The issue of who will take her place will be discussed at an Irish government cabinet meeting on Wednesday.