Simon Coveney urges UK to remain in Customs Union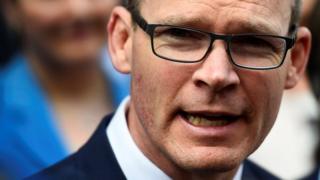 The Irish Foreign Minister has urged the UK government to consider remaining in a customs union with the EU after Brexit.
Simon Coveney said he found it "difficult to accept" that the option should be ruled out before negotiations on trade have even begun.
The Prime Minister has said she wants Britain to negotiate its own trade agreements after Brexit which rules out a customs union.
Theresa May favours a "customs agreement" with the EU which will allow trade to be "as frictionless as possible."
The government outlined potential customs arrangements in a position paper published last month.
They included a proposed exemption for small businesses in Northern Ireland to allow them to continue trading across the border with no new customs regulations.
Mr Coveney said that the proposals did not appear to be compatible with maintaining the integrity of the EU's single market.
He argued that a vote to leave the EU was never explicitly a vote to leave the Customs Union or Single Market.
Speaking at a meeting of the British-Irish Association in Cambridge he said "shutting off avenues such as remaining in a customs union, without agreed deliverable and credible alternative pathways, narrows future options in a dangerous way."
Mr Coveney said the UK's exit would also require "a substantial transition period that allows everyone to prepare adequately for new realities."
He added that the transition should maintain the status quo in terms of membership of the customs and the single market as it would "confound all logic" to expect businesses to adjust to new arrangements twice.