German Freiburg murder: Migrant posed as 16 in asylum bid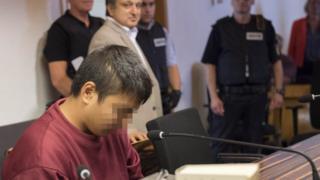 An asylum seeker accused of raping and murdering a student in Germany has told a court he posed as a minor to improve his immigration chances in 2015.
Hussein K says he is from Afghanistan - but has no ID to prove it. For privacy reasons his full name was not given.
Maria L was 19 when she was raped and murdered last October in Freiburg, south-west Germany. Her body was found in a river; she had been strangled.
The case fuelled heated opposition to Germany's welcome for asylum seekers.
Hussein K revealed on Tuesday that he was 18 on arrival in Germany in late 2015 - not 16 as he had claimed at the time. He thought that posing as a minor would get him better treatment in the asylum system.
There was particular anger that he had been jailed for attempted murder in Greece before making his way to Germany.
He had been let free after little more than a year in a Greek jail, under an amnesty. Critics said the case showed a woeful lack of intelligence-sharing among EU partners, with criminals entering Germany unchallenged.
Hussein K arrived in a year that saw more than 800,000 migrants enter Germany, many of them refugees from conflicts in Iraq, Syria and Afghanistan.
He had been placed with a foster family and was attending school in 2016. He told the court he had suffered from psychological trauma as a child and had been a heavy drug and alcohol user in Germany.
Age affects ruling
Prosecutors estimate his age now to be 22.
It is not yet clear whether he will be tried according to the juvenile penal code or the adult one. Adults can get life imprisonment for murder, whereas youths normally get between 10 and 15 years.
Several dozen nationalist Alternative for Germany (AfD) activists rallied outside the court, kept apart by police from left-wing campaigners.
Before the trial opened a long queue had formed, but only 150 people were allowed into the courtroom.
Hussein K says he was born in Afghanistan but later joined his brother in Iran, before making his way to Europe via Turkey. He was arrested after traces of his DNA were found at the murder scene, German media report.