Did Dutch 'terrorist hunter' cause Rotterdam attack alert?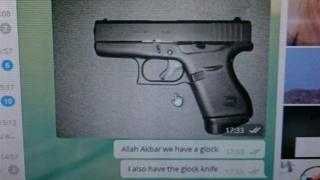 When a Rotterdam rock concert by the US band Allah-Las was called off at the last minute in August, Dutch police said they were acting on a Spanish tip-off about a possible terrorist attack.
The alarm came days after the jihadist murders in and around Barcelona.
Hours later, a 22-year-old man was arrested in an overnight raid. But now the man's lawyer has insisted he not only poses no danger to the public but that he is in reality a "terrorist hunter".
Who is Rotterdam suspect?
Jimmy F is a student of safety and security management who lives at home with his parents in the southern town of Zevenbergen.
He was detained in a dawn raid hours after the club was cordoned off, and held in isolation for a week. Lawyer Karianne Bal says her client's intentions were good; to help catch those who do pose a terror threat.
The Dutch student is part of a tight-knit online network who call themselves "Syria General". Ms Bal also claims the authorities were aware of what she described as Jimmy F's "peculiar hobby".
What is 'Syria General'?
Based on English-language, image-based website 4chan, Syria General is part of an online discussion forum used to share news and opinions about the conflict.
Users usually post anonymously. Most are supporters of Syrian President Bashar al-Assad.
However, one member of the group, known as "Jad", denied claims that one of the group's aims was to track down "terrorists". He told the BBC that Jimmy F was active on the forum, but had been acting independently when he engaged in something they call LARPing (Live Action Role Playing), which involves "infiltrating and baiting" individuals who may be planning attacks in Europe.
Telegram chatter
Friends say Jimmy F was in contact with someone calling himself "Ayoub" on the Telegram messaging app - a person he thought was based in Spain and preparing an act of terror in the West.
Images obtained by the BBC appear to show Jimmy F sending pictures of weapons which friends say were supposed to convince "Ayoub" to share more details about his plans.
According to the suspect's lawyer, her client had been arranging a meeting at Rotterdam airport to lure someone he believed posed a terror threat to a location where the Dutch authorities could arrest him.
Ayoub's identity is unclear, but Jimmy F's friends believe Ayoub shared screen grabs of the chat with the Spanish Guardia Civil police. The Spanish authorities alerted the Dutch authorities, who then shut down the Rotterdam music venue.
So, if these accounts are to be believed, two people, both pretending to be armed and willing to carry out an attack, caused the mass terror scare in Rotterdam.
Rise of virtual detective
Covert intelligence-gathering groups have risen to prominence as part of a growing trend for self-taught individuals to harvest open source material online and offer their findings to official investigations.
Bellingcat is among the best known for its work in researching chemical weapons use in Syria, as well as the shooting down of passenger jet flight MH17 over eastern Ukraine.
However, Christiaan Triebert at Bellingcat fears that the kind of closed-source, vigilante, partisan work conducted by people connected to the Syria General forum can adversely affect proper legal investigations - especially, he says, when members are "ideologically driven".
"If you have been building an intelligence picture and potential case for years and then a (4chan) guy rocks up and says, 'What's up, fellow jihadists', there's a good chance the genuine terrorists will get spooked and burn the evidence.
"Once you cross the line and start engaging, then you're not only endangering yourself, you're potentially endangering real intelligence operations."
The important question is how the authorities adjust to this reality. There has been no jihadist attack on Dutch soil in recent years, although police have stepped up anti-terror measures around tourist sites in recent days.
What next for Jimmy F?
Police have been granted more time to question Jimmy F. The intelligence services have refused to comment due to the ongoing investigation.
A spokeswoman for the prosecutor's office in Rotterdam told the BBC: "He is suspected of crimes related to terrorism, however we know what he and his friends have said online. We aren't just investigating what he said but also whom he was speaking to and his motivations. You can say a lot... we have to find out if it's true."