Austin Stack hits out at Gerry Adams' 'counter-productive' comment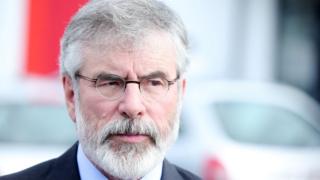 The son of a murdered prison officer has criticised remarks made by Gerry Adams about a 1991 IRA murder.
The Sinn Féin president was asked if the killers of Tom Oliver from County Louth should be brought to justice.
Speaking on the Michael Reade Show on LMFM Radio, he said jailing the killers would be "totally and absolutely counter-productive".
However, Austin Stack, the son of another IRA victim, said his words were "demeaning to victims".
Tom Oliver, a County Louth farmer, was murdered by the IRA in 1991. He had been shot in the head.
Nobody has ever been convicted of the crime, but gardaí (Irish police) launched a new investigation this year.
Mr Adams was asked on LMFM if he thought Mr Oliver's killers should be charged with murder.
He said while he would defend the right of the family to prosecutions and that everyone has a duty to co-cooperate with the Garda, such a process would be "counterproductive and wouldn't assist the wider process".
Mr Adams then referred to the case of Brian Stack, a prison officer, who was murdered by the IRA in 1983.
His son, Austin Stack and Mr Adams met a senior republican with knowledge of his father's murder in 2013.
'Effect of re-traumatising his family'
The Sinn Féin leader said that meeting had been "exploited grievously by Sinn Féin's political opponents" and "jeopardised any authority and influence" he may have.
Brian Stack's son, Austin, hit out at the comments on the BBC's Stephen Nolan show.
"It has the effect of re-traumatising his family, who I know quite well," said Mr Stack.
"What he said about Tom Oliver was nothing short of scandalous and no other politician would get away with it.
"Tom Oliver's murder was recently described as looking like concrete blocks had been dropped all over his body. That's how bad of a murder it was.
"This was an absolutely heinous crime. For Gerry Adams, an elected politician, to come out and say it would be counterproductive for Tom Oliver's family to seek answers and justice, it's incredible."
Mr Stack also referred to calls from republicans for investigations into other Troubles' killings.
"Gerry Adams and his colleagues have been very much to the fore in looking for justice and investigations in relation to a whole range of situations, such as Ballymurphy," he said.
"They can't have it everyway. Either everything is investigated and there's prosecutions in relation to everything or nothing."
Mr Stack went on to outline what he would like to see in terms of dealing with the past in Northern Ireland.
"What I would like, and have campaigned for, is fully victims-centred where the victim gets to meet the perpetrator and talk to them.
"If the family feel at the end of that process they have been told the truth and dealt with in a truthful fashion and have got something out of it, then it's up to the family to decide where to go from there.
"Whatever would be said to the family in that process can't be used in a prosecution," he added.