The father who saved his children from IS in Syria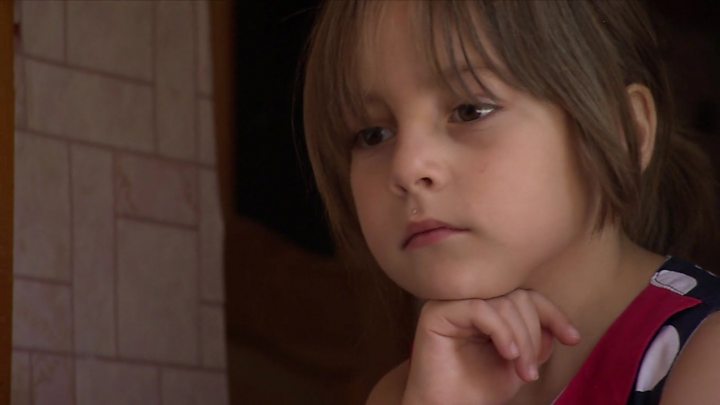 Sitting in the yard of his house, Artur Magomedov recalls the moment his world fell apart.
"My wife's uncle and brother came round to see me. They told me she had gone away and taken the children."
Without telling him, Artur's wife had taken their daughters, 10-year-old Fatima and Maizarat, 3, and flown to Turkey. From there she crossed into Syria to join so-called Islamic State (IS).
"Her uncle and brother looked pleased. But I told them: 'This will end in tears.' And what right did she have to take my kids away without my permission?"
In Dagestan, Artur's wife had embraced a radical form of Islam and saw IS's self-declared caliphate as a promised land.
She is not alone. This part of Russia has become a key recruiting ground for IS. According to the local authorities, 1,200 Dagestanis have gone to Syria to fight for the group.
Artur resolved to rescue his daughters.
Long journey to IS territory
He borrowed money and flew to Istanbul, Turkey. There, a guide was waiting to arrange his secret transfer to Syria.
"From Istanbul we drove to Gaziantep in southern Turkey. There was a Chechen family and three other people travelling with me.
"We changed cars five times before we reached the Turkish-Syrian border. There's a whole mafia there that organises the transport.
"To get across the border you have to run 200m, and run fast, with all your bags before the border guards start shooting. As I ran my heart was pounding.
"When I reached Isis territory, armed men were waiting with a pick-up truck. They drove us to a reception centre in Jarablus."
By now Artur had found out where his family was living. He had received a tip-off via text message from the husband of his wife's sister: she, too, had moved to the caliphate.
"He wrote to me: 'I'm a fair man and you haven't been treated fairly. That's why I am contacting you.'"
The relative had told Artur that his wife and children were in Tabqa. Artur travelled there and went to see them.
"The children were so happy to see me," recalls Artur. "Fatima was in black and wearing the hijab. Maizarat was still very young, so she was wearing the same kind of clothes she wore in Dagestan."
"My wife wasn't there when I arrived, but she soon came running when she heard I'd turned up. She realised she was in trouble."
A Sharia court awarded Artur custody of his children.
But it is forbidden to leave the caliphate. To get home, they would have to escape.
One night Artur and his children hitched a lift to the border with Turkey.
"We crawled along a railway line to within 70m of the border. I took my youngest girl in my arms, and told my other daughter: 'Run!'
"As we ran, I tore my trousers on some barbed wire and Fatima tore her dress. Maizarat started to cry.
"We'd just crossed the border when I tripped and fell on tank traps. I fell three times. I don't know how I found the strength to go on.
"The Turkish border guards were just 50m away and they started shooting. We dived into an irrigation ditch and hid there for 20 minutes. Bullets were flying overhead.
"We got away from there through long grass. That's when I realised we'd done it. I could see the moon and the cornfields. It felt like paradise."
Artur and his daughters made their way to Istanbul, where the Russian consulate helped the family return home.
But what of Artur's wife?
"I don't know where she is," he tells me. "We're not in touch. She made her choice. She must live with it."
Artur's mother tells me that other people from the village have left for the caliphate.
"There are four or five women who have gone to Syria and they regret it," she tells me, "I sometimes see their parents and they tell me life there isn't good."
What lies behind this exodus to Syria?
Dagestan is one of the poorest regions in Russia: unemployment is high, wages low. That makes this part of Russia a fertile soil for radical ideas.
Marat is a Dagestani who fled IS and is now in hiding. When we meet he tells me he was brainwashed by a radical preacher on the internet; to such an extent, that Marat abandoned his pregnant wife for jihad in Syria.
"The preacher posted lots of emotionally-charged videos claiming Syrians were being persecuted and killed," Marat tells me.
"'Why are you Muslims sitting at home? Come and help!' he would say. So, I decided to go and help."
"My wife was against the idea. So I wasn't completely honest with her. I told her I was only going there for a short while, for a month or so. Once I was in Syria I called her and said I'm not coming home. She burst into tears. She was hysterical.
"I realise now it was my mistake. I understand that it's not really a holy war there. It's just one lot of Muslims fighting another."
'Shut the mosque and the young leave'
Some Dagestanis claim that, in their efforts to fight terrorism at home, the local authorities have inadvertently been pushing people abroad.
In the town of Shamkhal, Shamsutdin Magomedov tells me about the local mosque he once prayed in, but which Dagestani police recently closed down.
He admits that "five or six people from the mosque" did travel to Syria, but insists that closing the building is no solution.
"When the young people are here with us, we can keep an eye on them," Shamsutdin says. "But shut the mosque, and the young people leave. Who knows where they go? And what they are doing?"
Back in the yard at Artur Magomedov's house, his youngest daughter Maizarat is sitting on the porch watching us. I ask Artur how his children have been affected by their experience, taken to Syria by their mother, and then rescued by their father.
"This spring, Maizart asked me: 'How come everyone else has a mother and I don't?'" Artur tells me.
"But I know the girls are still in touch with their mum on social media. I told them not to communicate with her. But I'm not going to stop them.
"After all, she is their mother. And they do miss her."