Brokenshire to discuss Brexit and Stormont with Irish minister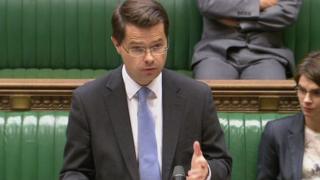 The Northern Ireland secretary is due to visit Dublin on Tuesday to discuss Brexit and the political stalemate at Stormont.
James Brokenshire will hold talks with the Irish Foreign Affairs Minister, Simon Coveney.
It is understood he will also meet representatives from the British-Irish Chamber of Commerce.
Mr Brokenshire is expected to discuss the UK government's Brexit position proposals.
The series of papers, which were published last week, looked at a range of issues including the "unique circumstances" of the border between Northern Ireland and the Irish Republic.
They emphasised the need to avoid a hard border and said there should be no physical infrastructure, or check points which could impact cross-border trade.
Beyond Brexit, Mr Brokenshire will also discuss the restoration of the devolved Northern Ireland Assembly at Stormont.
Northern Ireland has been without a functioning power-sharing executive since it collapsed in January, with the last round of talks suspended in July.
On Sunday, Sinn Féin's Stormont leader Michelle O'Neill wrote to the UK and Irish governments proposing that talks should recommence next week.
The Democratic Unionist Party (DUP) described the proposal as a "stunt".