Leo Varadkar: Irish student fails to recognise taoiseach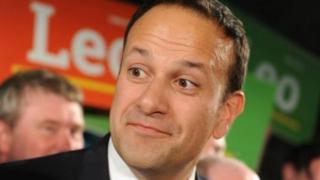 An Irish student in Chicago has told of her embarrassment after not recognising her country's prime minister while serving him in a restaurant.
Emma Kelly, from Dublin, asked Leo Varadkar and his friend to wait at the bar for 20 minutes on Sunday night.
She said she asked him if he was Irish, before sitting him at a "tiny table".
After a friend pointed out who it was, Ms Kelly took to Twitter to announce the chance meeting, adding: "honestly what is wrong with me?"
The 20-year-old, who is in the US on a special student visa for the summer, said she felt "very embarrassed" by the slip up and apologised before moving the Taoiseach (Irish prime minister) and his party to another, bigger table.
"He was really nice about it. He wasn't too mad that we didn't recognise him... I don't think," she told RTÉ Radio.
"He was like, 'no, it's kind of nice to feel like a normal person again'."
Ms Kelly said she thought: "Oh my God. I can't believe I've done this."
She added: "I would have know him and I would have seen his posters everywhere.
"It's just when you are in Chicago working, you just don't expect someone like that to walk in."
The hostess later posted what she called a "painfully awkward pic" taken with the taoiseach.
Mr Varadkar responded on Twitter: "Thanks Emma. The food & service was gr8. Enjoy the rest of your J1".
"Hahaha officially my fave Taoiseach." Emma tweeted later.