Notre-Dame attack: Farid Ikken appears in Paris court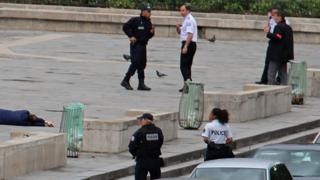 An Algerian man who was shot after attacking a policeman with a hammer at Notre Dame cathedral has appeared before a judge in Paris.
Farid Ikken, 40, was officially charged with the attempted murder of law enforcement officials and association with terrorists.
The journalist was studying in France for a doctorate in communications.
He was described by the Paris prosecutor as a novice jihadist with an atypical profile.
Francois Molins described Mr Ikken as a professionally successful man, an intellectual, who had never given anyone who knew him the slightest sign of radicalisation.
Last Tuesday in front of Notre-Dame cathedral, Mr Ikken attacked a policeman with a hammer while shouting "This is for Syria", and was then shot and wounded.
He was jailed ahead of a hearing. He had previously been receiving hospital treatment under armed guard for a gunshot wound to the leg.
Mr Ikken told investigators he had radicalised himself over a period of 10 months, Mr Molins said.
At his home outside Paris, the prosecutor added, investigators found a laptop computer and four USB keys which contained:
A manual for "lone wolves" issued by so-called Islamic State (IS)
Images of the London attack three days previously
Videos "glorifying" earlier attacks in Paris and Brussels.
A videoed message of support for IS which Mr Ikken had tried but failed to upload on to social media on the eve of his attack
"He had never shown any sign of radicalisation to those close to him, he had never been convicted, he was unknown to the intelligence services and so far, no signs of contact with anyone in Iraq or Syria have been found," Mr Molins said.
"He therefore appears to have the profile of a neophyte that the services fighting terrorism fear as much as hardened cases. It shows the diversity of profiles and that anything is possible."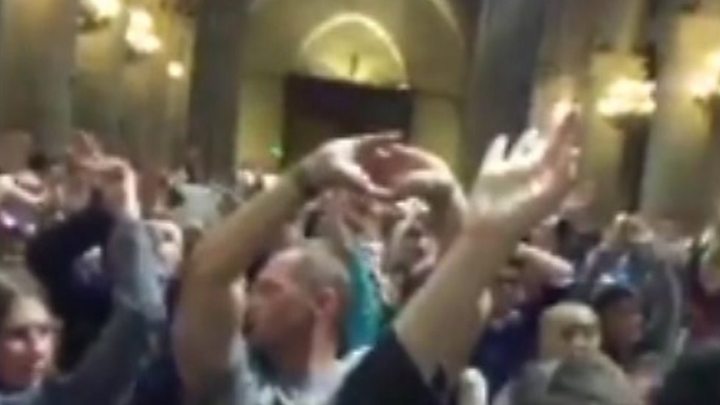 ---
Recent terror attacks in France
20 Apr 2017 - A convicted criminal who was investigated for threatening to kill police opens fire at police on the Champs Elysees in Paris, killing one and wounding two. He is shot dead - and the assault is claimed by IS
3 Feb 2017 - A machete-wielding Egyptian man shouting "Allahu akbar" attacks French soldiers at Paris's Louvre Museum - he is shot and wounded
26 Jul 2016 - Two attackers slit the throat of a priest at his church in Saint-Etienne-du-Rouvray, in Normandy. They are shot dead by police
14 Jul 2016 - A huge lorry mows down a crowd of people on the Nice beachfront during Bastille Day celebrations, killing 86. IS claims the attack - by a Tunisian-born driver, later shot dead by police
13 Jun 2016 - A knife-wielding jihadist kills a police officer and his partner at their home in Magnanville, west of Paris. He declares allegiance to IS, and police later kill him
13 Nov 2015 - IS jihadists armed with bombs and assault rifles attack Paris, targeting the national stadium, cafes and Bataclan concert hall. The co-ordinated assault leaves 130 people dead, and more than 350 wounded
7-9 Jan 2015 - Two Islamist gunmen storm the Paris offices of satirical magazine Charlie Hebdo, killing 17 people. Another Islamist militant kills a policewoman the next day and takes hostages at a Jewish supermarket in Paris. Four hostages are killed before police shoot the gunman dead. The other two gunmen are cornered and killed by police in a siege