Bernard Tapie loses final appeal in 404m-euro Adidas case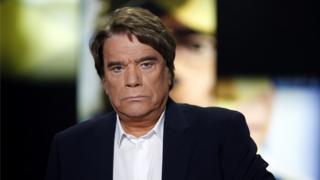 French businessman Bernard Tapie must repay €404m ($449m; £345m) that he was awarded in 2008 for the disputed sale of a firm, an appeals court has ruled.
Then French finance minister Christine Lagarde - now head of the International Monetary Fund - was found guilty of negligence for approving the award.
Mr Tapie had sued state bank Credit Lyonnais, accusing it of undervaluing the sports goods company Adidas, when he sold his stake to become a minister.
The legal battle has run for 20 years.
The award was annulled in 2015 because Mr Tapie had links to one of the arbitrators appointed to settle the case with Credit Lyonnais bank, and he was later ordered to pay back the money.
On Thursday, the Court of Cassation - France's highest appeals court and therefore his final avenue of legal recourse - rejected his appeal.
Mr Tapie was declared bankrupt in the mid-1990s and it remains unclear whether he will be able to pay.
Public outcry
The case originates in the early 1990s, when Mr Tapie was a majority shareholder in Adidas.
After launching a political career and becoming a cabinet minister in Francois Mitterrand's Socialist government in 1992, Mr Tapie had to sell the company.
In 1993, he sued Credit Lyonnais, which handled the sale, alleging that the bank had defrauded him by deliberately undervaluing the firm.
By 2007, the long-running case was referred to binding arbitration by Ms Lagarde, who at that time was finance minister under conservative President Nicolas Sarkozy.
A three-member panel awarded the compensation a year later, causing a public outcry.
In 2015, after eight more years of legal wrangling, a French court ruled that Mr Tapie had not been entitled to compensation and should repay the €404m.
Last December, the French Court of Justice of the Republic (CJR) - a special court for ministers and former ministers - found Ms Lagarde guilty of negligence but did not hand down any punishment.