Erdogan anger as Germany-Turkey war of words escalates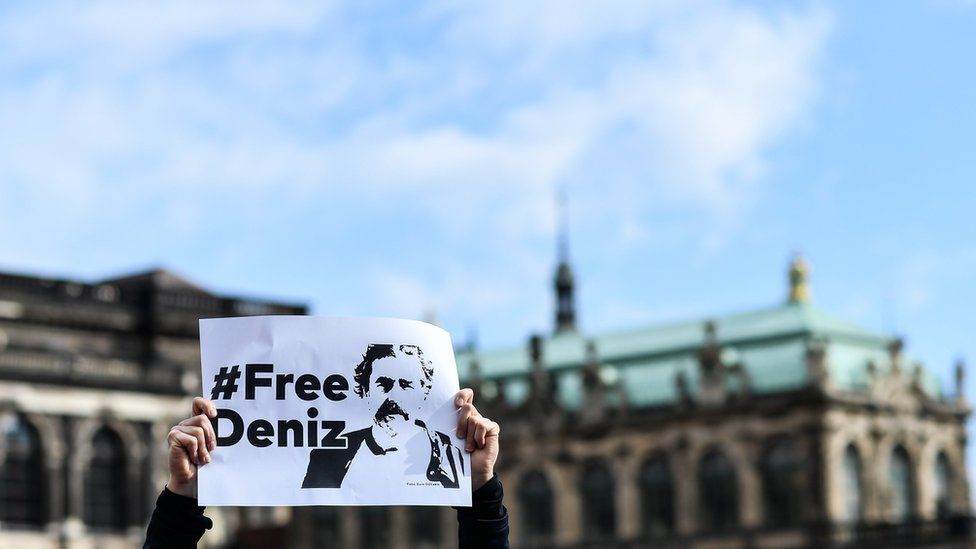 A row between Ankara and Berlin over a series of cancelled Turkish political rallies in Germany is continuing to escalate.
On Friday, Turkish President Recep Tayyip Erdogan accused Berlin of "aiding and harbouring" terror.
He said a German-Turkish journalist detained by Turkey was a "German agent" and a member of the outlawed Kurdish militant group, the PKK.
A source in Germany's foreign ministry told Reuters the claims were "absurd".
Earlier German Chancellor Angela Merkel said she respected local authorities' decisions to cancel rallies that Turkey's justice and economy ministers had been scheduled to address.
Turkey is trying to woo ethnic Turkish voters ahead of a key referendum.
About 1.4m Turks living in Germany are eligible to vote in the April referendum, in which President Erdogan aims to win backing for sweeping new powers.
The constitutional changes would boost Mr Erdogan's presidency and significantly weaken parliament's role.
Turkish officials have been angered after local German officials withdrew permission for rallies in Gaggenau, Cologne and Frechen.
Gaggenau authorities had said there was insufficient space for the rally, while Cologne officials said they had been misled about the purpose of the event.
Turkish Justice Minister Bekir Bozdag, who had been due to speak in Gaggenau, said he saw "old illnesses flaring up" between the two Nato allies.
Meanwhile, Turkish Foreign Minister Mevlut Cavusoglu accused the German government of backing opposition to Mr Erdogan's planned constitutional changes.
He said: "You are not Turkey's boss. You are not a first class [country] and Turkey is not second class. We are not treating you like that, and you have to treat Turkey properly.
"If you want to maintain your relations with us, you have to learn how to behave."
Germany's foreign ministry said the central government had nothing to do with the cancellations, and Ankara should refrain from "pouring oil on the fire".
The growing row is troubling for Chancellor Merkel because she persuaded Turkey to help block the surge of migrants - many of them Syrian refugees - into the EU.
Separately, the Dutch government on Friday described plans for a Turkish referendum campaign rally in Rotterdam as "undesirable". Turkish Foreign Minister Mevlut Cavusoglu was reportedly meant to attend the rally scheduled for 11 March.
Mr Yucel "hid in the German embassy as a member of the PKK and a German agent for one month", Mr Erdogan said.
"When we told them to hand him over to be tried, they refused."
German's foreign ministry called the spy claims "absurd".
Ms Merkel, referring to the case earlier, told reporters in Tunis: "We support freedom of expression and we can criticise Turkey."
German Justice Minister Heiko Maas sent his Turkish counterpart, Mr Bozdag, a sharply-worded letter warning against "dismantling the rule of law".
He said the Turkish treatment of Mr Yucel was "disproportionate".
"If Turkey fails to uphold core European values, then closer relations with the European Union will become more difficult, or impossible," he wrote.
In Turkey, dozens of writers and journalists have been arrested in a far-reaching crackdown that followed a failed coup against Mr Erdogan in July 2016.
A large number Turkish diplomats and soldiers have sought asylum in Germany since the coup attempt, a further source of bilateral tension.