Suspended garda superintendent David Taylor reinstated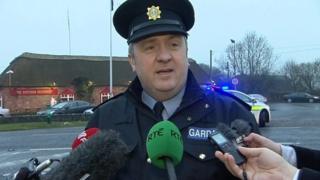 A police superintendent in the Republic of Ireland who was suspended in 2015 as part of an investigation into alleged media leaks, has been reinstated to his position.
Supt David Taylor was the superintendent in charge of the traffic unit at Dublin Castle prior to his suspension.
The Office of the Director of Public Prosecutions has directed he is not to be prosecuted.
Mr Taylor said he had been vindicated.
In a statement, he added that it had been "an incredibly stressful and difficult time for my family and myself".
Irish broadcaster RTÉ said Mr Taylor was contacted by a senior officer and informed that his suspension was lifted and he was to report back to work immediately.
Mr Taylor had been suspended for 22 months. During this period, he was arrested and questioned for 21 hours at Balbriggan Garda Station.
RTÉ added that Mr Taylor had his pay reduced at one stage by 25%, but that all monies are due to be repaid to him.