Lithuania tourism advert used fake photos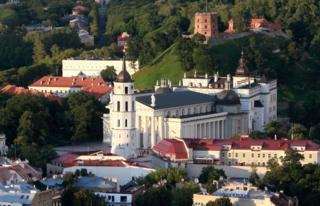 Lithuania's tourism chief has been forced to resign after an ad campaign to promote the Baltic state used photos of other countries.
The department of tourism admitted that some of the pictures shared on social media were of Finland and Slovakia.
The images ran under the slogan "Real is Beautiful".
"I have decided to step down as the head of the state tourism department," Jurgita Kazlauskiene told journalists.
Responding to the gaffe, the department and local media agencies insisted the overseas pictures were sufficient to "communicate emotion" - a claim widely mocked online.
The Real is the Beautiful page on Facebook had reportedly used stock photos from Shutterstock and the picture hosting site Flickr.
Local Facebook users have seen the funny side, with many posting shots of international landmarks, captioned as Lithuanian, with the hashtag #realisbeautiful.
Even the country's Prime Minister Saulius Skvernelis joined in the joke, sharing a picture of the EU Commission's Berlaymont building in Brussels.
"From tomorrow, we start working in the new government building in Karoliniskes," he wrote.
Karoliniskes is a suburb in Lithuania's capital, Vilnius.
The post was signed off with a smiling emoji.
In a second more serious post, the prime minister promised an investigation into the "fraudulent" episode.
Lithuania launched the Real is Beautiful campaign in October last year, aiming to draw more tourists to its sandy beaches and lush woodlands.