Anthony Stokes sentenced for Dublin Elvis impersonator assault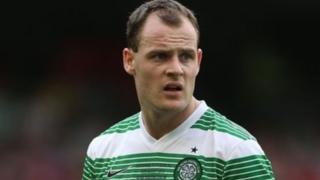 Republic of Ireland international Anthony Stokes has received a suspended sentenced for assaulting an Elvis Presley impersonator outside a nightclub in Dublin.
The Blackburn Rovers striker admitted a charge of assault last November.
He pleaded guilty to attacking Anthony Bradley outside Buck Whaleys nightclub on 8 June 2013.
Stokes, 28, who is originally from Dublin, was given a two-year suspended sentence.
He was also ordered to pay the victim 30,000 euros (£25,492).
The judge said that she was taking into consideration "the seriousness of the offence and the personal circumstances" of Stokes.
The court had heard that Mr Bradley, 53, suffered a broken nose and two broken teeth in the incident.
He has also been diagnosed with a degenerative spinal condition since the assault, which causes pain across his neck and shoulders.
The judge also ordered Stokes to sign a bond to be on good behaviour for two years.
Stokes has played nine times for the Republic of Ireland.
His career started at Arsenal and he also played for Sunderland and Hibernian.
He is best known for a six-year stint at Glasgow Celtic where he scored 58 goals.