Trump travel ban: Ireland reviews US immigration points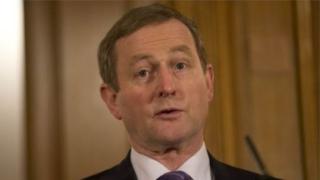 A "complete review" of US immigration points in the Republic of Ireland has been announced by Taoiseach (Irish prime minister) Enda Kenny in the wake of Donald Trump's immigration ban.
The order temporarily banning people from seven Muslim-majority countries entering the US is being implemented at Dublin and Shannon airports.
They are among a small number of airports that offer US pre-clearance.
Mr Kenny said he "disagreed" with the travel ban on Monday.
He also revealed that 5,000 people from the seven countries that are banned from travelling to the US have Irish citizenship and live in Ireland.
Mr Kenny told the Dáil (parliament) that they are entitled to be admitted to the US if they present their Irish passports while travelling.
He said that the Irish cabinet was very much in favour of retaining US pre-clearance facilities.
He added that he condemned torture and all breaches of human rights.
Micheál Martin, the leader of opposition party Fianna Fáil, told parliament that the travel ban was "wrong, dangerous and offends against the concept of human decency".
It is understood a report will be published on the issue, possibly within a week.
The ban bars citizens from Iraq, Syria, Iran, Libya, Somalia, Sudan and Yemen from entering the US for 90 days, or be issued with an immigrant or non-immigrant visa.
US pre-clearance means that checks are carried out pre-departure and travellers are treated as domestic arrivals upon reaching the US.
There has been one case of a person being refused pre-clearance to the US at Dublin Airport, the Irish transport department has confirmed.
Mr Kenny clarified that the man was a foreign national who was lawfully living and working in the Republic.
Mr Kenny also confirmed to the Irish cabinet that he would be going to the White House on St Patrick's Day.
There have been calls from members of the Irish parliament for Mr Kenny to boycott the annual event.
The taoiseach traditionally presents the US president with a bowl of shamrocks.
However, Mr Kenny said he would go and it was agreed he would outline the government's position that it did not support President Trump's restrictions on refugees.