Dublin: Three charged over Greenogue industrial estate guns find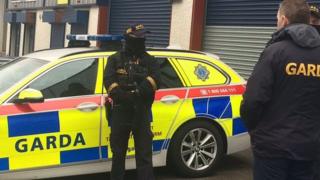 Three men have appeared in court charged in connection with an arms find in a warehouse in Dublin earlier this week.
In court were Declan Brady, 51, of The Park, Celbridge, Jonathon Harding, 44, from Kardiff Avenue in Naas, and James Walsh, 33, from Wheatfield Avenue in Clondalkin.
All three are charged with possession of five handguns.
The weapons were found at Greenogue industrial estate on Tuesday.
The guns seized were a .357 Magnum, and four Smith and Wesson Rossi revolvers.
The men were also accused of possession of a silencer and 20 rounds of ammunition in suspicious circumstances.
An armed police unit brought the three men to Dublin District Court on Friday afternoon.
Three officers from the Garda Drugs and Organised Crime Bureau gave evidence of arrest, charge and caution.
The court heard that Mr Brady replied "no" to each charge, Mr Walsh said "no comment" and Mr Harding did not reply.
They were remanded in custody to appear again in court by video link next Wednesday.